Travis Wilkerson – How to Trade Stock Options Course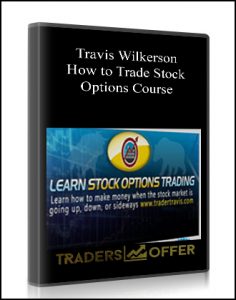 Travis Wilkerson – How to Trade Stock Options Course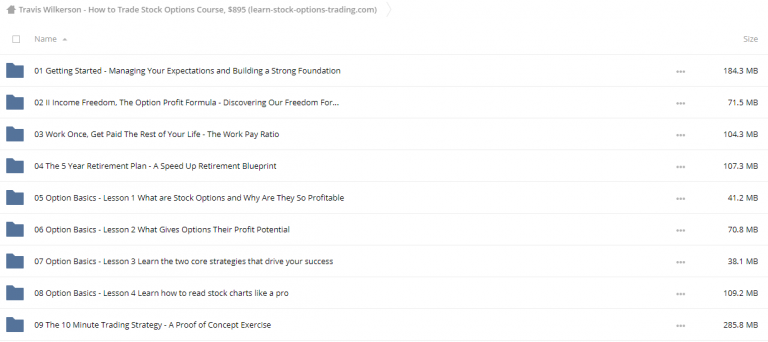 About Course
Travis Wilkerson – How to Trade Stock Options Course
Includes 21 lessons
Learn Options Trading & Discover How Investors are Making Money Even When Stocks Go Down or Sideways in Price…
Beginner traders can now learn options trading through the web based course on this site without having to pay thousands of dollars first.
There are several different approaches to take if you want to learn options trading, however this course is designed in the exact same order as how I learned.
It walks you through a simple 7 step process of trading stock options.
The information on this site is especially useful for those do-it-yourselfers who are attempting to learn how to trade stock options for free. I've been there so I understand your needs and frustrations.
I bet you find it's hard don't you? Well it is!
I spent a number of hours being frustrated by trying to learn for free and after several months I still did not know how to trade stock options.
Eventually I decided to take it a step further and I paid someone to teach me how to trade. It was one of the best decisions I ever made!
What I learned in that options trading course has given me true financial freedom; something that no free course has ever done.
If you pay for the right education it's worth it. After all, time is money. Nothing compares to paid education.
Free education can only get you so far so don't expect this web based course to turn you into an options trading pro. It wasn't designed for that. However, you can visit this site as much as you like until you fully learn option trading.
Enjoy!
What Will You Learn From this Options Trading Course?
This options course was designed to be an easier way for you to learn stock option trading:
You'll learn the basics of stock option investing…
*You'll learn how to make money when the stock market is going up, "and" when it is going down…
You'll learn techniques to protect your profits…
*You'll learn to succeed by avoiding common roadblocks…
And you'll be provided with plenty of additional information to reinforce what you learn…
What You Will "NOT" Learn From this Options Trading Course?
You will "not" learn how to get rich quick…
You will "not" learn how to be an options trading pro…
This course was designed to be an overview of investing in stock options to see if this is something you should pursue further. It is "not" designed to teach you everything you need to know as. I think that's impossible to do via a website.
For example…
Did you learn how to ride a bike by reading a book?
Did you learn how to drive a car by reading a book?
Do pilots learn how to fly by reading a book?
Well trying to teach someone all the ins and outs of trading via a website is like trying to teach brain surgery with a book.
Its dang near impossible to do so I stop trying years ago and then created a video based home study course. If you'd like to learn more about the training programs I have just join my private email list.
I will however teach what I can via this website and then the rest you can learn possibly through someone else's more advanced training. And i don't care "who" you learn from, I just care that you learn how to trade options the right way.
I had a mentor (a rich guy) show me how to succeed as a trader. You will most likely need a mentor also because the reality is that no one succeeds on their own.
Reading about options trading is great and it will move you forward educational wise. But I didn't succeed with trading until I paid for someone to mentor me and here is how my mentor explained it to me.
He said options trading is a highly complex skill like brain surgery. And you can't learn how to perform brain surgery by reading about it. And you ultimately can't learn to be a successful trader by reading about it or scouring the web trying to piece together free information.
Essentially people shouldn't try to "self-educate" and learn how to trade on their own.
At a gut level I think we all know you can't learn how to be a successful trader purely from a book. That's an absurd assumption and it would be similar to thinking we can learn how to perform surgery on someone from reading a book or two.
We may have the mechanics down, but would YOU let someone perform brain surgery on you if you knew they learned how to do so from reading a book?
And now after trading for 10+ years and coaching thousands of students I have to agree with my mentor. I think options trading is a skill where you need some kind of coaching or mentorship, but that's what I think, ultimately it's your life and only you can decide that.
Learning how to trade stock options is not as easy as some people lead you to believe.
Do not make the mistake I made earlier on and try to "self-educate" your way to profits. All that does is lead to years of wasted time and wasted money. So with that being said, I hope you enjoy the course…
Visit more course:  FOREX TRADING COURSE
The same course:  Bill Williams Eduard Altmann SMB Simpler Trading Van Tharp Atlas Api Training Trading Template Sunil Mangwani Sunil Mangwani Frank Paul . Also  Market Delta Tradingacademy Simplertrading Urbanforex. Also  Candlechartscom Dan Sheridan Pipsociety  Atlas Api Training TopTradeTools Todd Mitchell Jerry Singh OpenTrader Alexandertrading Daytradingzones
Available at traderknow.com
Please contact email: [email protected] If you have any question.
Course Features
Lectures

0

Quizzes

0

Duration

35 hours

Skill level

All levels

Language

English

Students

93

Assessments

Yes