Trade The Price Action by Thomas Wood (Valuecharts)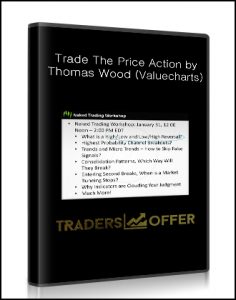 Trade The Price Action by Thomas Wood (Valuecharts)
About Course
Trade The Price Action by Thomas Wood (Valuecharts)
Naked Trading: Reading Price Action: How to Trade Price Action Trends
Thomas Wood (the author of the course) has been active in trading for the past eight years.
He has continued to learn new trading strategies and utilise the latest technical indicators (while inventing some of his own) to become a profitable trader.
He is also the director of ValueCharts.
And by the way, Thomas is only 25 years old.
And he quickly became one of the youngest and most sought after hedge fund managers in the industry.
Child prodigy? Perhaps.
But lots of well-heeled investors seem not too concerned with Thomas's age… once they experience the kinds of portfolio returns he's created for them.
What is Thomas's secret to success? Well, he has several, but the main one is:
He Keeps Things Simple! And truth be told, that is the exact same secret held by some of the savviest,
most consistently profitable traders and investors in the markets.
Thomas has agreed to reveal a handful of his most powerful trading strategies to a select few lucky traders.
Now you can be one of them. Order the Trade The Price Action video course and learn how to trade price action simply and effectively.
Video Content:
-What is "Naked Trading"?
-How Does Naked Trading benefit you?
-Why you need to stop looking for the next holy grail indicator.
-How To determine Market direction
-What is a High/Low and Low/High Reversal?
-Highest Probability Channel Breakouts
-Trends and Micro Trends – How To Skip False Signals
-Consolidation Patterns, Which Way Will They Break.
-Entering Second Breaks, When Is A Market Running Stops
-Why Indicators Are Clouding Your Judgment
Forex Trading – Foreign Exchange Course
Want to learn about Forex?
Foreign exchange, or forex, is the conversion of one country's currency into another.
In a free economy, a country's currency is valued according to the laws of supply and demand.
In other words, a currency's value can be pegged to another country's currency, such as the U.S. dollar, or even to a basket of currencies.
A country's currency value may also be set by the country's government.
However, most countries float their currencies freely against those of other countries, which keeps them in constant fluctuation.
Visit more course:  FOREX TRADING COURSE
The same course:  Bill Williams Eduard Altmann SMB Simpler Trading Van Tharp Atlas Api Training Trading Template Sunil Mangwani Sunil Mangwani Frank Paul . Also  Market Delta Tradingacademy Simplertrading Urbanforex. Also  Candlechartscom Dan Sheridan Pipsociety  Atlas Api Training TopTradeTools Todd Mitchell Jerry Singh OpenTrader Alexandertrading Daytradingzones
Available at traderknow.com
Please contact email: [email protected] If you have any question.
Course Features
Lectures

0

Quizzes

0

Duration

25 hours

Skill level

All levels

Language

English

Students

95

Assessments

Yes