Trade Stocks With Technical Analysis by Sasha Evdakov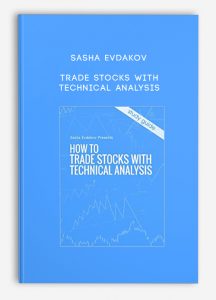 Trade Stocks With Technical Analysis by Sasha Evdakov
About Course
Trade Stocks With Technical Analysis by Sasha Evdakov
This course is recommended for people who have a good basic understanding of the stock market and who have been studying the markets for a year or more. Although the content and presentation of this course are suitable for a beginner to understand, you must be an enthusiastic and passionate student, as this course is extremely in-depth and requires several hours of study. Technical Analysis Course Summary See a detailed breakdown of each video and what you'll learn Also
Module 1: Introduction Runtime:
51 minutes In the first video you will learn the fundamentals and basics to get the most out of this course. We will begin to converge an overview of the analysis and what to focus on as you study the material. You'll learn: Tips, ideas, and techniques for how you can be more successful in this course Key important things to keep in mind when reading technical analysis Common obstacles for most people who are just starting to trade and tips on how you can overcome these obstacles An overview of fundamental analysis and technical analysis why you want to focus on the technical aspects What to focus on while evaluating a stock before taking a trade What I ignore and don't care when trading stocks Also

Module 2: Technical Basics Runtime:
34 minutes In this video you will learn the technical basics. Before you can read technical analysis or apply it to your trading, you need to know what it is about and how you can use it. You'll learn: What is technical analysis about and why is it important Why You Should Use Technical Analysis To Make Most Of Your Trading Decisions Understand cycles and how stocks move in repeatable cycles gives you an advantage in predicting How to evaluate a stock in multiple time frames A common phrase to remember when looking at stock charts that will stick with you for life 3 key points to remember about technical analysis Also

Module 3: Charting Basics Runtime:
43 minutes Charting Basics is about getting the right foundation for reading and evaluating stock charts. There are a variety of ways that you can look at charts from chart types to various time frames. You'll learn: What are chandeliers and why you should learn about them Different types of charts you can see when trading off charts The difference between arithmetic and logarithmic graphs and which one you should use Critical Questions to Ask When Looking at Charts Why You Should Look At Different Chart Time Frames Before Taking A Trade What are the trends and the importance of trends 3 different types of trends in stocks and which one to focus on when trading What violation of a trend will tell you about a stock Also

Module 4: Chandeliers Run time:
31 minutes In this video you will learn about the important candlestick patterns to watch out for when looking at stock charts. By learning about some major candlestick patterns, you will learn how a stock is moving during that time period, and you will know when a stock can change momentum or direction. You'll learn: What are the patterns they wrap and why you should be on the lookout for them What are hammers and hanging men What are shooting stars, what do they look like and why you should look for them Four different types of dojis and what they represent on the chart Also

Module 5: Volume Runtime:
64 minutes In this module you will learn how volume is the critical leading indicator to watch when trading stocks. Volume is the fuel that moves stocks. Without knowing or understanding quality volume, you won't know if your stock movement is real. In this module you will learn: What is volume and why is it so important What volume tells you when it is increasing or decreasing How to read quality volume and stop high value trades What you should be seeing when loud volume bursts How intraday volume can be calculated to detect high volume signals during the day Four phases that passes and repeats an action Five different volume chart patterns to look for and what they mean A volume training exercise you can do to practice your volume reading skills Also

Module 6: Cause and Effect Run time: 30 minutes

Module 6 we focus on cause and effect and how it applies to actions. Cause and effect apply to all aspects of life, not just actions. We discuss energy and what is the cause and effect in actions. Some of the topics we will cover are: What is cause and effect and how does it apply to actions. How to look at the energy of stocks and what it means for movement How wide is the price differential the effect on the shares and how does it confirm the movement Also

Module 7: Turning Points Runtime: 27 minutes
In Module 7 we discussed turning points in stocks along with ABCD patterns and how you can use them to set up a trade. Also In this module you will learn: What are turning points and why understanding them is invaluable. The basics of ABCD patterns and what to expect from each leg. How the volume should act and behave when looking at the breaks at the pivot points Also

Module 8: Support and Resistance Run time: 31 minutes
In module 8 you will learn about support and resistance and how viewing certain levels in a stock will allow you to project areas where a stock can bounce or higher power. Some of the topics we will cover are: What is support and resistance. Examples of various support and resistance lines on real life stock charts. How resistance lines can become support lines and vice versa. Some additional support and resistance tips Also

Module 9: Confluence Run time: 20 minutes

In module 9 we focus on the confluence that tries to understand areas or points where a stock joins. Think of the confluence as a point where buyers and sellers meet. It is this area that could show mixed signals and pull your game. Also In this module you will learn: What is confluence and how does it apply to stocks Examples of real-life confluence. How Confluence Tricks Traders With Its Entry And Exit Points How much confluence to expect in stocks at various price levels Also

Module 10: Trend Lines and Channels Run time:
37 minutes In this video you will learn about trend lines. And a deeper look at support and resistance using trend lines. We will also cover channels and how a tight channel can finally give a stock more importance when it comes to support and resistance. You will also learn: What are trend lines and when to enter a stock if a trend line breaks. Also What is the principle of the trend line fan and how to apply it on charts. And What is a healthy trend line angle and why it is important to observe. What are the channels and why should you look at them to determine your projected motion? Different types of channels you can find in stocks Also

Module 11: Setbacks Runtime: 44 minutes
We know that stocks don't go up forever, nor do they move in a straight line. In this module we talk about setbacks. Correct retracements are healthy in a stock and knowing what is a healthy retracement or a false retracement will give you more confidence in retracements. If you know what a healthy pullback is, then you know areas of support. Resistance, and opportunities where you can buy stocks on a bounce. In this module you will learn: How Most People Think Stocks Move. Also And How They Actually Move What a healthy pullback in stocks looks like. And what to watch for Why do I love to pull backs and you should too What is Fibonacci. How to use it in your retracement levels What are the important Fibonacci levels to watch for stocks How To Calculate Fibonacci Levels On Your Stock Retracements How to calculate expansion levels in a stock movement Also

Module 12: Gaps
Run time: 23 minutes
Visit more course:  FOREX TRADING COURSE
The same course:  Bill Williams Eduard Altmann SMB Simpler Trading Van Tharp Atlas Api Training Trading Template Sunil Mangwani Sunil Mangwani Frank Paul . Also  Market Delta Tradingacademy Simplertrading Urbanforex. Also  Candlechartscom Dan Sheridan Pipsociety  Atlas Api Training TopTradeTools Todd Mitchell Jerry Singh OpenTrader Alexandertrading Daytradingzones
Please contact email: [email protected] If you have any question.
Course Features
Lectures

0

Quizzes

0

Duration

20 hours

Skill level

All levels

Language

English

Students

94

Assessments

Yes