The Ultimate Bow Ties Strategy Home Study Trading Course by Dave Landry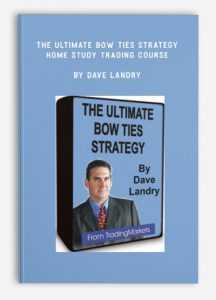 The Ultimate Bow Ties Strategy Home Study Trading Course by Dave Landry
About Course
The Ultimate Bow Ties Strategy Home Study Trading Course by Dave Landry
Dave Landry published his book Dave Landry on Swing Trading in 2000, Dave Landry made public and began teaching one of his best strategies–the Bow Ties Strategy.
Among other things, Dave Landry will teach you his best approach for properly identifying Bow Ties, picking the best Bow Tie patterns to trade, "cheating" and entering before the official Bow Tie signal, and how to make Bow Ties more powerful by combining them with other patterns such as First Thrusts and Reversal Gaps.

Also, I will show you how to apply the Bow Ties Strategy to stocks in a variety of time frames and how you can use it to trade different markets such as E-minis, Forex and ETFs.
How This Course Is Laid Out
Dave Landry's Bow Tie course is organized into three parts. First, Dave Landry will take you through the basics of my overall approach to trading. Then, Dave Landry will teach you about Transitional Patterns. Next, you wil learn the Bow Tie Strategy and its accompanying rules. And finally, I'll teach you how to trade Bow Ties in a variety of real world situations.
The main focus of my course is on new ways to use Bow Ties. Dave Landry also want to help people who already use Bow Ties to improve their results using the basic strategy.
Part I: A Swing Trading Primer. Before we get deep into Bow Ties, I will lay the groundwork for you by walking you through the basics of swing trading. I will explain to you my method of swing trading and how it allows you to enter strong trends and trade short-term moves. I also cover basic stop placement and money management techniques.
Part II: The Importance Of Transitional Setups. Then, I will focus on Transitional Setups, which is a powerful category of swing trading that includes my Bow Tie Strategy. I will explain the mechanics of transitional setups and how they allow you to capture high-momentum moves that occur at the beginning of trends. Also
Part III: Bow Ties, My Favorite Transitional Setup Strategy. Next I will teach the Bow Tie Strategy and its basic rules. You will learn how to set up the moving average indicators that make up the Bow Tie and then rules for entering and exiting Bow Ties. From there, I will take you through a series of in-depth real-world simulations. Also Each one of these will explore, bar-by-bar, different dimensions of Bow Tie trading. As a whole, they are designed to deepen your understanding of how you can best use this versatile strategy. You'll hear my voice as I explain my observations about the market action you'll be viewing. Make sure you have your computer speaker hooked up and set at an audible volume.
Here are the topics we'll cover:
How To Use the Counting Crossings Technique To Identify Optimal Bow Tie Setups
Capturing Major Trends With Bow Ties
How to Identify Higher Probability Bow Tie Setups By Combining Multiple Signals in the Overall Market And Individual Stocks
Detecting and Trading Rapid Sell-Offs Using The Sharp Angle Of Attack Technique
How To Use The First Thrust Strategy To Enter Before A Bow Tie Setup
How Enter Ahead of Bow Tie Setups Using the Reversal Gap Strategy
When Is It Appropriate to Stay Out Of A Bow Tie Trade?
How Chart Patterns Can Be Combined With Bow Ties To Identify High Probability Setups
And how to Make Discretionary Trading Pay Off
How To Trade Defensively and Never Let Your Guard Down When Trading Bow Ties
Why It Pays To Pay Attention To Bow Tie Setups In Sectors
How To Anticipate A Bow Tie Trade Before The "Official" Trigger
How to Avoid Being Stopped Out Prematurely From A Good Bow Tie Trade
What Happens When a Bow Tie Doesn't Trigger?
How To Use Bow Ties To Daytrade The E-Minis
Here's One Way To Trade the Forex Markets With Bow Ties
How to Use Bow Tie Moving Averages As a Leading Indicator and How Daytraders Can Trade the Open Using Bow Ties
Use Fractals To Find High-Probability Trades Across Different Time Frames

Technical Analysis Day trading
How to understand about technical analysis: Learn about technical analysis
In finance, technical analysis is an analysis methodology for forecasting the direction of prices through the study of past market data, primarily price and volume.  Also
Behavioral economics and quantitative analysis use many of the same tools of technical analysis, which,
being an aspect of active management, stands in contradiction to much of modern portfolio theory.  Also
The efficacy of both technical and fundamental analysis is disputed by the efficient-market hypothesis, which states that stock market prices are essentially unpredictable. Also
Visit more course:  FOREX TRADING COURSE
The same course:  Bill Williams Eduard Altmann SMB Simpler Trading Van Tharp Atlas Api Training Trading Template Sunil Mangwani Sunil Mangwani Frank Paul .   Market Delta Tradingacademy Simplertrading Urbanforex.   Candlechartscom Dan Sheridan Pipsociety  Atlas Api Training TopTradeTools Todd Mitchell Jerry Singh OpenTrader Alexandertrading Daytradingzones
Please contact email: [email protected] If you have any question.
Course Features
Lectures

0

Quizzes

0

Duration

25 hours

Skill level

All levels

Language

English

Students

96

Assessments

Yes