The Short-Term Trading Course by David S. Nassar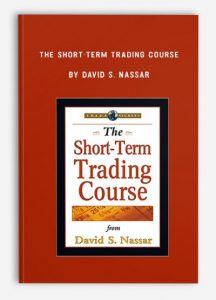 The Short-Term Trading Course by David S. Nassar
About Course
The Short-Term Trading Course by David S. Nassar
Discover new and innovative techniques that fly in the face of accepted market wisdom as Marketwise Trading School founder David S. Nassar lays out a complete game plan for short-term trading success. This awesome 2-hour course is fast-paced, thorough and contains so many original new concepts that even the most seasoned pros are raving about it. From trading basics to advanced charting techniques – this impressive workshop captures David's trademark frankness and mastery of the short-term trading markets. You'll learn what to do – what not to do – when to make your moves – how to read the signals – and how to apply the dead-on techniques David has perfected over the years. Discover proven alternatives that will make your move into the short-term markets easy and profitable. Includes complete online support manual.
MarketWise Trading School founder David S. Nassar is a trading maverick who entered the short-term trading arena years before it became standard practice. His best-selling How to Get Started in Electronic Day Trading book was one of the first "bibles" of the short-term trading world. Now, he's put all his trading know-how into a 2-hour, power-packed presentation.
This course offers exciting and original new strategies for conquering any market climate. David debunks many of investing's most revered practices as "pure myth" when it comes to market success, explaining why those practices simply don't work in today's short-term markets – and why they're exactly what not to do. Instead, he shares his own proven methods with you – illustrating them in step-by-step detail.
Nassar's one of the best trading instructors there is, because he's a real world trader – just like you.
His entertaining workshop provides penetrating insight into:
The 3 driving forces behind changing stock prices
5 different "edges" to look for before entering any trade
The key to profitability in trading: anticipate, don't just participate
Debunking the "volume myth" – learning to recognize when trading action really drives the biggest price moves
Understanding & employing the "Fibonacci sequences" and so much more!
From the basics to advanced techniques, Nassar provides a virtual blueprint for anyone who hopes to profitably transition from long-term investor to short-term trader, while revealing concepts even seasoned traders will find refreshing. Clear, concise, and comprehensive – it's an amazing "5-star" rated workshop for traders of all levels.
Technical Analysis Day trading
How to understand about technical analysis: Learn about technical analysis
In finance, technical analysis is an analysis methodology for forecasting the direction of prices through the study of past market data, primarily price and volume.
Behavioral economics and quantitative analysis use many of the same tools of technical analysis, which,
being an aspect of active management, stands in contradiction to much of modern portfolio theory.
The efficacy of both technical and fundamental analysis is disputed by the efficient-market hypothesis, which states that stock market prices are essentially unpredictable.
Visit more course:  FOREX TRADING COURSE
The same course:  Bill Williams Eduard Altmann SMB Simpler Trading Van Tharp Atlas Api Training Trading Template Sunil Mangwani Sunil Mangwani Frank Paul . Also  Market Delta Tradingacademy Simplertrading Urbanforex. Also  Candlechartscom Dan Sheridan Pipsociety  Atlas Api Training TopTradeTools Todd Mitchell Jerry Singh OpenTrader Alexandertrading Daytradingzones
Please contact email: [email protected] If you have any question.
Course Features
Lectures

0

Quizzes

0

Duration

50 hours

Skill level

All levels

Language

English

Students

94

Assessments

Yes