The Moxie Stock Method Class by Simplertrading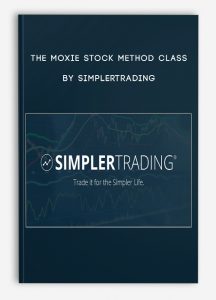 The Moxie Stock Method Class by Simplertrading
What Will You Learn?
Who Uses This Strategy:
TG Watkins
What:
 What if you could look beyond price and identify big moves in stocks before they happen?
Now is your chance to discover how TG achieved 103% account growth with his Moxie Stock Method in a little over a year. Thanks to his proprietary Moxie Indicator he consistently predicts 'pops and drops' in stocks that allow him to book returns of 10% to 200% (often within days).
For the first time, TG is revealing how he catches 'Moxie Stocks' before they take off. Whether you are a beginner or a pro, this step-by-step training is designed to provide everything you need, including TG's breakthrough Moxie Indicator, proven pre-trade checklist, and Moxie Scans for TOS.
TG also recorded an Indicator Installation Session to show you exactly how to apply the Moxie Indicator to your TOS charts after the indicator is delivered.
The Moxie Stock Method Class:
How to use the Moxie Indicator to read the profit potential of any stock
How TG avoids trades that could tank his account
TG's strict rules and checklist for entering positions
How to use triple leveraged ETFs to your 'unfair' advantage
How TG plays bearish stock setups without options
Includes:
Moxie Indicator + Indicator Scans
3 Days Live Trading Sessions with TG Watkins (Recorded)
Asset Class/Markets:
Primarily equities but a broad range within that asset class. Can be used for futures and Forex.
Skill Level:
Basic to advanced
Why Buy This Class:
You will learn how price interacts with moving averages in ways you have not seen before. Lucrative, repeatable patterns which help you see the entry and exit coming. See through the noise of price like never before with the Moxie Indicator
Course Breakdown
Chapter
1: Introducing TG and his charts: 44 minutes
2: Gaps, Moats, Elf Shoes: 23 minutes
3: Moxie Indicator; Divergences: 50 minutes
4: Moving Average Weakness, Full Trend Cycle: 53 minutes
5: 15 Minute Moxie: 30 minutes
6: Moxie Scans, Day Trades: 21 minutes
7: Chart Examples with Q&A: 56 minutes
3-Days Live Trading Sessions (Recorded)
Visit more course:  FOREX TRADING COURSE
The same course: Bill Williams Eduard Altmann SMB Simpler Trading Van Tharp Atlas Api Training Trading Template Sunil Mangwani Sunil Mangwani Frank Paul . Also  Market Delta Tradingacademy Simplertrading Urbanforex. Also  Candlechartscom Dan Sheridan Pipsociety  Atlas Api Training TopTradeTools Todd Mitchell Jerry Singh OpenTrader Alexandertrading Daytradingzones . wyckoffanalytics Simplertrading
Available at traderknow.com
Please contact email: [email protected] If you have any question.
Course Features
Lectures

0

Quizzes

0

Duration

50 hours

Skill level

All levels

Language

English

Students

214

Assessments

Yes