Stock Patterns for DayTrading I and II by Barry Rudd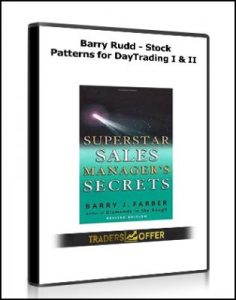 Stock Patterns for DayTrading I and II by Barry Rudd
About Course
Stock Patterns for DayTrading I and II by Barry Rudd
Technical Analysis Swing & Day trading
How to understand about technical analysis: Learn about technical analysis Also
In finance, technical analysis is an analysis methodology for forecasting the direction of prices through the study of past market data, primarily price and volume. Also
Behavioral economics and quantitative analysis use many of the same tools of technical analysis, which,
being an aspect of active management, stands in contradiction to much of modern portfolio theory. Also
The efficacy of both technical and fundamental analysis is disputed by the efficient-market hypothesis. Which states that stock market prices are essentially unpredictable. Also
This book describes the trading strategies used by a professional stock trader in his own trading. The ideas come both from friends who are successful traders as well as his own experience with SOES trading. The collection of trading patterns described represents one of the first full-fledged books of instruction on short term, swing and day trading in individual stocks. Also
The author's intraday trend trading approach and his scalping method are both described in detail. He uses the setups daily in his own trading. This manual should prove valuable to the thousands of short term stock traders who seek to make their living from speculating on short term price swings. It is a toolbox for finding high probability trades for success as you trade the stock market. Also
The technical ideas are primarily crafted around the personality of the NASDAQ market but may also be implemented in New York trades.
In Stock Patterns for Day Trading 2, Barry Rudd describes the strategies used by a professional stock trader in his own trading. The collection of trading patterns it describes and the trading strategies. And tactics it teaches provide a valuable course of instruction on short term, swing and day trading in individual stocks.
This manual will prove valuable to short term stock traders who seek to make their living from short term price swings.
Overview:
1) Primary Trading Strategies: a) Wide Range Days, with Extreme Close, b) Reversal Setups, c) Consolidation Breakout.
d) More 5 Minute Bar Patterns, e) Profit Targets, f) Fading, g) Filtering, h) Congestion, and i) Daily Bars of Indecision.
2) Supporting Tools and Tactics: a) Market Index Behavior, b) Time of Day and c) The Ticker & Choosing Your Basket of Stocks.
3) Real-World Trade Analysis and Money Management: a) Trend Trading vs Scalping, b) Trade Analysis, c) Risk/Reward Ration & Scalping, and d) Money Management.
4) The Psychology and Discipline of Day Trading (formerly a separate manual of 25 pages)
Visit more course:  FOREX TRADING COURSE
The same course:  Bill Williams Eduard Altmann SMB Simpler Trading Van Tharp Atlas Api Training Trading Template Sunil Mangwani Sunil Mangwani Frank Paul . Also  Market Delta Tradingacademy Simplertrading Urbanforex. Also  Candlechartscom Dan Sheridan Pipsociety  Atlas Api Training TopTradeTools Todd Mitchell Jerry Singh OpenTrader Alexandertrading Daytradingzones
Please contact email: [email protected] If you have any question.
Course Features
Lectures

0

Quizzes

0

Duration

35 hours

Skill level

All levels

Language

English

Students

93

Assessments

Yes