Steve Nison Japanesse Candlestick Charting Techniques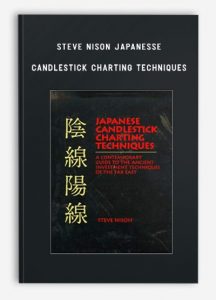 Steve Nison Japanesse Candlestick Charting Techniques
About Course
Steve Nison Japanesse Candlestick Charting Techniques
Editorial Reviews
From the Publisher
"An exciting and valuable addition to the literature of technical analysis… this ancient Japanese technique is available to American traders in a comprehensive, well-written, and understandable format." Also
John Murphy, President
JJM Technical Advisors, Inc. and Also
Author of Technical Analysis of the Financial Markets
It's hard not to be too effusive about the quality of Nison's work… reading [his book] was a pleasure. This is clearly one of the best investment books ever written…. We strongly recommend this book, which has already become an investment classic. Also
Bruce Babcock, Jr. Editor-in-Chief, Commodity Trades Consumer Report
From the Inside Flap
Charting techniques used by the Japanese for over 100 years are explained for today's traders and investors in:
JAPANESE CANDLESTICK CHARTING TECHNIQUES, SECOND EDITION: A Contemporary Guide to the Ancient Investment Techniques of the Far East Also
Steve Nison
Completely informative and global in its outlook, Japanese Candlestick Charting Techniques, Second Edition provides an in-depth explanation of candlestick plotting and analysis. This exciting book exposes the reader to the practical applications Steve Nison gained from years of study and research in this now popular and dynamic area. Today, almost all charting packages include candle charts. Also
This book contains hundreds of examples that show how candlestick techniques can be used in all of today's markets. Through such patterns as the "dark-cloud cover" and "hanging-man lines," traders will discover how candlestick techniques provide unique market insights. They will discover see how candles will provide early reversal signals, improve timing entering and exiting markets and can be merged with classic Western charting techniques. Also
This totally updated revision focuses on the needs of today's traders and investors with:
All new charts including more intra-day markets
New candlestick charting techniques
More focus on active trading for swing, on-line and day traders
New Western techniques in combination with candles
A greater spotlight on capital preservation. Also
Candle charts are older than bar charts, older than point-and-figure charts, but were completely unknown in the West – until Steve Nison introduced them through his articles, seminars, and his books. Also
Technical Analysis Candlesticks
How to understand about technical analysis: Learn about technical analysis
In finance, technical analysis is an analysis methodology for forecasting the direction of prices through the study of past market data, primarily price and volume. Also
Behavioral economics and quantitative analysis use many of the same tools of technical analysis, which,
being an aspect of active management, stands in contradiction to much of modern portfolio theory. Also
The efficacy of both technical and fundamental analysis is disputed by the efficient-market hypothesis, which states that stock market prices are essentially unpredictable. Also
Visit more course:  FOREX TRADING COURSE
The same course:  Bill Williams Eduard Altmann SMB Simpler Trading Van Tharp Atlas Api Training Trading Template Sunil Mangwani Sunil Mangwani Frank Paul . Also  Market Delta Tradingacademy Simplertrading Urbanforex. Also  Candlechartscom Dan Sheridan Pipsociety  Atlas Api Training TopTradeTools Todd Mitchell Jerry Singh OpenTrader Alexandertrading Daytradingzones
Please contact email: [email protected] If you have any question.
Course Features
Lectures

0

Quizzes

0

Duration

25 hours

Skill level

All levels

Language

English

Students

96

Assessments

Yes