Steve Nison – Candle Charting Essentials & Beyond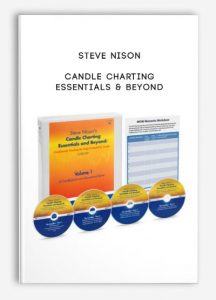 Steve Nison – Candle Charting Essentials & Beyond

Who Else Wants To Build A Strong Trading Foundation Of Proven Candlestick Charting Strategies… Taught By World-Renowned Expert Steve Nison… To Give You A Massive Advantage Over The Market
Though this video quality is optimized for fast web delivery, the actual DVD quality is crystal clear!
"If you're serious about discovering how Nison Candlesticks can help you become a smarter and more confident trader, then this will be the most important message you'll ever read…"
Here Is How To Have A Trading Portfolio You Can Be Proud Of… Almost Overnight
Steve Nison is ready to help you annihilate your trading competition and achieve your highest trading goals!
Hi, Steve Nison here…
As you probably know, I was the first to reveal candlestick charts to the West.
And my goal is to help you become the best trader possible. How? By showing you how to fully exploit candlestick charts to help increase profits and decrease market. And to make sure you are using them correctly!
That is why I am excited to announce my "Candlestick Charting Essentials and Beyond" 2-Volume DVD workshop covering Nison candlesticks, merging candlesticks with western techniques and money management from the basics to a strong intermediate level. In Volume 1 called Nison Candlestick Basics I carefully hand picked the most important candle signals (including my all time favorite candle signal) and detail them starting from the basics and working my way up to a strong intermediate level. In Volume 2 called East Meets West: Nison Candles and Western Indicators, I use my 30+ years experience in Western technical's and show how easy and powerful it is to combine candles with western tools and trade management from the basics and working my way up to a strong intermediate level.
Filmed at my rare two full day seminars, these DVDs are so comprehensive … so loaded with "ready-to-use" methods, tips, techniques, and ideas … you'll be ready to trade like a pro!
That's because I divulge many of the very same secret trading tactics that I have taught to market makers, institutional traders and professional hedge fund and money managers around the world.
Finally Achieve Those Lofty Trading Goals You Desire
You've seen other successful traders, and you know it's possible to create serious profits and excellent income through trading.
With the help of my new DVD training program, you'll have the knowledge and confidence to make it happen for yourself:
Generate real wealth for you and your family *
Create extra income to help cover your expenses and live better *
Get rid of that annoying debt that's holding you back *
Replace your lost retirement funds from the recent market drop *
Take care of your family now and in the future *
Live the life you really want…and trade from anywhere in the world *
Achieve true freedom that no one can take away from you!
Is it possible to really achieve what you want through smart trading? You'd better believe it! I've been helping thousands of traders get what they truly desire for over 25 years.
Now it's your turn.
You Will Literally Be In The Top .1% Of Traders Worldwide
Every trader needs an advantage to win…and this is your double-barreled advantage no one else can touch!
When you're armed with these new insights and strategies, you'll have total confidence to tackle even the toughest trading environments…you'll never hesitate again because you'll instinctively know what to do…and you'll have the knowledge to cut those losing trades fast and let the winners run to capture more profits that other traders miss out on.
No one else is teaching this new information, because no one else knows about it!
So continue reading to discover exactly what I'm going to share with you…
This Program Is For EVERY Serious Trader
It doesn't matter if you're a complete beginner.
It doesn't matter if you're a seasoned candlestick trader.
This new "Candle Charting Essentials and Beyond" DVD Training Program will help you achieve amazing new heights in your trading.
Becoming a consistently profitable trader isn't rocket science. To get the best results from your trading you need to give yourself a top-quality education.
My new DVD Training Program is perhaps the most valuable education you'll ever give yourself.
So why not take advantage of this big discount now before the price goes up?
And here's a look at exactly what you'll gain from this new DVD Training Programs…
Introducing…
Candle Charting Essentials & Beyond (Volumes 1-2)
The "Candle Charting Essentials & Beyond" (Volumes 1 and 2 of the Candlecharts.com Educational Series) DVD Training Program is the equivalent of a 2-day seminar on Steve's "Trading Triad" principles of Candlesticks, Western Technicals, and Trade Management, taking you from the beginning to a strong intermediate level…
Simple And Easy For Any Trader To Quickly Master
For a detailed syllabus of the entire "Candle Charting Essentials and Beyond" DVD Workshop (Volumes 1 & 2), click here now
IMPORTANT: Watch this video now to listen to the traders who attended this original seminar!
You'll love how fast I can teach you to become a smart candlestick charter…quickly going from absolute beginner to brimming with confidence!
That's because I've honed my teaching skills along with my candlestick skills over the years. The Candle Charting Essentials & Beyond Training Program is fun, fast-paced, and will give you what I believe is the best trading education you'll ever give yourself.
The best part is, you'll see a tremendous improvement in your insight and confidence the very next trading day!
We'll Start At The Very Beginning…
Okay, let me ease your concerns. If you have no idea how a candlestick is even constructed, I'll show you the simple concept behind these brilliant charts.
I won't assume that you have any prior experience with candles at all… so all you need is an open mind and a willingness to discover these highly coveted strategies.
Which means that this Candle Charting Essentials & Beyond Training Program is the right place for anyone who wants to learn candles from the ground up… or just get a good refresher course to make sure they're using these charts the right way.
It's a fantastic training ground used by other smart traders like you who want to achieve their very best!
See How Easy — And POWERFUL — It Can Be To Combine Candles and Western Indicators
Everyone knows the value of including Western technical indicators in your trading analysis.
Moving averages… Advance/declines… Bollinger Bands… and more.
They all add specialized insight into what's happening on your charts.
And the great news is that you can boost your effectiveness even MORE when you combine these Western indicators with candlestick charts.
Visit more course:  FOREX TRADING COURSE
The same course:  Bill Williams Eduard Altmann SMB Simpler Trading Van Tharp Atlas Api Training Trading Template Sunil Mangwani Sunil Mangwani Frank Paul . Also  Market Delta Tradingacademy Simplertrading Urbanforex. Also  Candlechartscom Dan Sheridan Pipsociety  Atlas Api Training TopTradeTools Todd Mitchell Jerry Singh OpenTrader Alexandertrading Daytradingzones
Please contact email: [email protected] If you have any question.
Course Features
Lectures

0

Quizzes

0

Duration

30 hours

Skill level

All levels

Language

English

Students

95

Assessments

Yes