Raghee – Submarket Sonar from Simpler Trading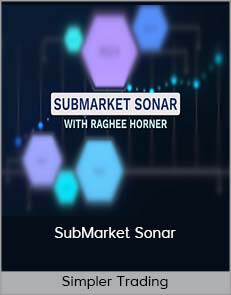 Raghee – Submarket Sonar from Simpler Trading
What are you going to learn?
Who uses this strategy: Raghee Horner
What: any trader eager to get an advantage right after the opening bell. To be able to negotiate large flows of money from buying and selling. Identify key fluid levels with volume and activity. Find levels of recoil or reversion to the mean. Capitalize when the market has gone "too far". Gain confidence in the numbers by finding confirmation that the price level will be maintained.
Submarket Sonar Strategy Class –
Also Learn what the great flow of money measures, clues and trades.
Why buy where they do and how we can find these levels.
The skills to anchor the volume-weighted average price, volume profile and standard deviation.
The three indicators that track the large flow of money in a simple and clean way.
How to use these levels to trade in any time frame in futures, options, ETFs and stocks.
Build and manage a long-term portfolio.
Position the trade and see the rotation of the sector in real time. Also
Identify trends that most traders don't see before it's too late.
And Find the levels that institutions follow.
Take advantage of undervalued and overvalued options.
Daily trading futures such as the S & P and NASDAQ.
Know the two trends in any market.
How to strategically anchor to create your "business advantage".
Also included:
 Indicator setup and questions and answers with Eric Purdy, 1 session, 48 minutes
Submarket Sonar strategy Sessions: 4 sessions, 4 hours 15 minutes
2 days of live trading sessions with Raghee Horner
Asset class / markets: prepare to avoid icebergs hiding below the surface with the VWAP Max toolkit to help you unlock trades and identify market opportunities in futures, options, stocks, ETFs and indices.
Skill level: if you are someone who wants to use the VWAP Max tools to gain your "trading advantage" in various markets and intraday, day, swing or trading position and deadlines, then the VWAP Max trading system will help you take your trade to the next level with confidence and control.
Why buy this class: learning how to use VWAP Max tools will allow traders to have price and volume visibility and confirmation in the markets to capitalize. Anchor guide lights can help identify the invisible levels of prices and volumes at which traders should be operating or set aside.
Course breakdown
Chapter 1: VWAP, VProfile, Vscore and anchor: 58 minutes
Chapter 2: deeper into VProfile and VScore: 53 minutes
And Chapter 3: Buybacks, sector rotation and Macro data: 70 minutes
Chapter 4: price action and shares: 75 minutes
2-day live trading sessions
Visit more course: BOND – STOCK TRADING
The same course: Djellala – Training by Ebooks (PDF Files), Also StratagemTrade – Rolling Thunder: The Ultimate Hedging Technique.  Also  Tom K. eloyd – Successful Stock Signals for Traders and Portfolio Managers: Integrating. Daniel T.Ferrera Llewelyn James Martin Armstrong investorsunderground
Available at traderknow.com
Please contact email: [email protected] If you have any question.
Course Features
Lectures

0

Quizzes

0

Duration

50 hours

Skill level

All levels

Language

English

Students

111

Assessments

Yes