Sherman McCellan – Timing the Market with Unique Indicators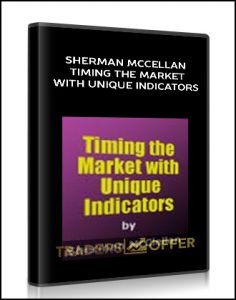 Sherman McCellan – Timing the Market with Unique Indicators
About Course
Sherman McCellan – Timing the Market with Unique Indicators
This is a must see DVD if you wish to understand the McClellan Oscillator and Summation Index. You will learn directly from Sherman McClellan and his son, Tom, on how to use this powerful indicator. You will also learn how you can apply this unique indicator to the futures market. To the best of our knowledge, this is the only video DVD on this subject. Also
Chapters
Beginning
I Guarantee It Also
McClellan-Market Timers
Tom McClellan Also
When the Market Tops
Dow Chart Also
Advance Decline Data
Sherman McClellan Also
Volume
McClellan Also
New Bull Market
Continued Negative Oscillator Readings Also
Analog Studies
September T-Bonds Also
Clock Building
Presidential Cycle  Also
The Fish Test
Testimonials Also
10 Trading Rules
Final Word
About Arthor
Sherman earned a degree in business administration and economics from Claremont Men's College (now Claremont McKenna College), but found out after graduation that the standard types of fundamental analysis taught in school did not provide enough of the answers concerning why and when stock market prices moved. Also
Dissatisfaction with a number of methods for technical analysis led him to develop new techniques for assessing market conditions. Sherman and his mathematician wife Marian developed the McClellan Oscillator and Summation Index in 1969. It took their combined talents to do the work then, in a day when computers were unavailable, and when charts had to be drawn by hand. Also
Sherman brought these indicators to the public during guest appearances on Charting The Market, a technical analysis television program hosted by Gene Morgan which aired on KWHY in Los Angeles. As a result of these appearances, public interest in Sherman and Marian McClellan's new indicators increased. They were invited by the late Mr. P. N. Haurlan, publisher of the Trade Levels Report newsletter, to publish a book detailing their research. The book Patterns For Profit was the result of this effort.
Development of the McClellan Oscillator and Summation Index took place before access to computers was widely available. The first edition of their book included 8 years of data on the Oscillator and Summation Index portrayed in comparison to the NYSE Composite Index, and all data points were computed and plotted manually. For the purpose of verifying the signals given from NYSE data, they also calculated and graphed Oscillators and Summation Indices using AMEX advance/decline data and NYSE and AMEX
Visit more course:  FOREX TRADING COURSE
The same course:  Bill Williams Eduard Altmann SMB Simpler Trading Van Tharp Atlas Api Training Trading Template Sunil Mangwani Sunil Mangwani Frank Paul . Also  Market Delta Tradingacademy Simplertrading Urbanforex. Also  Candlechartscom Dan Sheridan Pipsociety  Atlas Api Training TopTradeTools Todd Mitchell Jerry Singh OpenTrader Alexandertrading Daytradingzones
Please contact email: [email protected] If you have any question.
Course Features
Lectures

0

Quizzes

0

Duration

40 hours

Skill level

All levels

Language

English

Students

97

Assessments

Yes