Pristine – Dan Gibby Seminar Series – 3 DVD – Mastering The Markets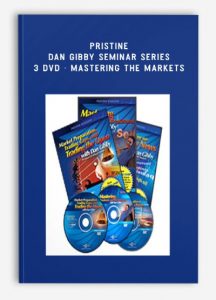 Pristine – Dan Gibby Seminar Series – 3 DVD – Mastering The Markets
About Course
Pristine – Dan Gibby Seminar Series – 3 DVD – Mastering The Markets
Investors are bombarded with news events about publicly traded companies. News is often already incorporated into stock prices; however, price charts often leave clues as to when news is on the way. In addition, prices often move aggressively upon news announcements, giving skilled traders the opportunity to trade with or against the news depending on price action. Pristine Certified Trainer Dan Gibby will teach you how to "think" like a professional when a particular news item scrolls across your screen. Also

Market Preparation, Trading Gaps And Trading The Open
Trading is one of the most dynamic businesses in existence today. It allows the astute few who know how to prepare for and objectively trade each market open to stack the odds in their favor. Also This DVD will show you precisely how to prepare and trade each market day in a more relaxed and confident manner by teaching you how to:
Determine the bias for the broader markets and major sectors using technical analysis, oscillators, and market internals.

Also



Prepare each market morning by updating your trade bias based on Futures, Gaps, Pristine ESP™, key newsletters, and morning news.

Also



Prepare for market movements from economic reports.
Scan your universe of stocks and sectors for compelling opportunities.
Use Pristine ESP™ to trade the open.

Also



Monitor news and market movers for preand post-market trading opportunities.

Also



Manage all open trades like a professional. Trade with and against gap openings.
Trade sector and stock related strength and weakness.

Also



Create and profit from a "Thought Process Checklist."
With the proper training, trading can become your profession, one that has the capacity to generate wealth as well as income. Many Pristine Trained Traders have gone on to make trading their career by studying and incorporating our trademarked methodologies. If trading mastery is your goal, then this power-packed DVD is for you. With a computer and a high-speed internet connection, the information contained herein will assist you in your quest, giving you the ability to be in business anywhere on planet Earth, anytime a market is open. Also
Mastering Breakouts And Breakdowns 
Successful trading involves finding quality patterns, entering them, and managing them in accordance with your trading plan. Also Of the many high-odds Pristine patterns we teach, this DVD will focus precisely on how to find and trade quality breakouts and breakdowns in a confident manner by covering:
Proper bases and consolidations.
Congestion versus fluid moves.

Also



Initial breakouts and breakdowns.
Retracements from breakouts and breakdowns.

Also



Secondary breakouts and breakdowns.
Breakouts and breakdowns from Wide Range Bars.

Also



Breakouts and breakdowns from Gaps.

Also



Breakouts and breakdowns after bullish and bearish retests.

Also



Quizzes to test your ability to find quality breakouts and breakdowns.
Using Pristine ESP™ to find breakouts and breakdowns.

Also



Late Day Breakouts and Breakdowns.
Proper entry and trade management.

Also



The patterns taught in this DVD are extremely powerful. Pristine teaches that it is better to master a few high-odds patterns versus trying to be a "jack of all trades." In fact, all a trader needs are two to three solid tactics for each of the four market cycles. That's a total of eight to twelve. Here you are presented with two of the most powerful. Also
Precision Trading On Company News
Investors are bombarded with news events about publicly traded companies. News is often already incorporated into stock prices; however, price charts often leave clues as to when news is on the way. Also In addition, prices often move aggressively upon news announcements, giving skilled traders the opportunity to trade with or against the news depending on price action. Pristine Certified Trainer Dan Gibby will teach you how to "think" like a professional when a particular news item scrolls across your screen. Among other things, this DVD will equip you to:
Gauge traders' perceptions of fear and greed.

Also



Intelligently predict how a stock "should" react to various news events.

Also



Find tradable opportunity in affected stocks, including fading the "expected" move.

Also



Analyze opportunity in over a dozen news events, including bankruptcy; biotechnology discoveries; buyouts; debt rating changes; disasters and sabotage; earnings and dividends; illegal activity and governmental investigations; layoffs and strikes; product recalls; comments by public news sources and analyst rating changes; short interest; stock splits, and more.

Also



Create and profit from a "Thought Process Checklist."
Technical Analysis Day trading
How to understand about technical analysis: Learn about technical analysis
In finance, technical analysis is an analysis methodology for forecasting the direction of prices through the study of past market data, primarily price and volume. Also
Behavioral economics and quantitative analysis use many of the same tools of technical analysis, which,
being an aspect of active management, stands in contradiction to much of modern portfolio theory. Also
The efficacy of both technical and fundamental analysis is disputed by the efficient-market hypothesis, which states that stock market prices are essentially unpredictable. Also
Visit more course:  FOREX TRADING COURSE
The same course:  Bill Williams Eduard Altmann SMB Simpler Trading Van Tharp Atlas Api Training Trading Template Sunil Mangwani Sunil Mangwani Frank Paul . Also  Market Delta Tradingacademy Simplertrading Urbanforex. Also  Candlechartscom Dan Sheridan Pipsociety  Atlas Api Training TopTradeTools Todd Mitchell Jerry Singh OpenTrader Alexandertrading Daytradingzones
Please contact email: [email protected] If you have any question.
Course Features
Lectures

0

Quizzes

0

Duration

20 hours

Skill level

All levels

Language

English

Students

94

Assessments

Yes