Noisia Style Neuro Drum and Bass Start to Finish by Dan Larsson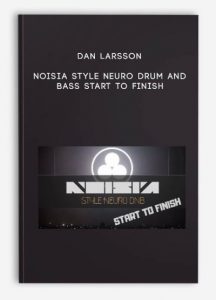 Noisia Style Neuro Drum and Bass Start to Finish by Dan Larsson
Description
Noisia has been in the scene since 1998 and always known by their exceptional sound design. The Dutch trio has made tons of records in various styles like dubstep, downtempo, house but more importantly: Neuro Drum and Bass or in other words Neurofunk. Also
Their sound is very unique: aggressive, distorted and twisted and very hard to replicate. This is why most of the producers go crazy to know their secrets of their sound design tips, tricks, drum processing knowledge, stereofield wizardy and mixdown awsomeness. Also
*Do you want your neuro game to be be improved?
Do you want to know secrets/tricks that made noisia the best of the bests?
*Do you want to grab that "Noisia sound"? or in other words:
How to sound like Noisia?
In this "Noisia Style Neuro Drum and Bass Start to Finish course" Dan Larsson teaches you everything you want to know about sound design, mixdown, stereo filed wizardy and all the tricks in Ableton Live 10.1 and XFer Serum to reach that "Noisia" sound for your own production! Also
Dan analyzes a Noisia track and starts to build up a neurofunk track in noisia style from scratch to a level that will suprise you it's possible to do using Ableton Live 10.1 tools. Like always you get the full Ableton Live 10.1 project file also with all the presets and samples! Also
So get ready for this tummy shaking expedicion to twisted, hard, distorted basses and nice synths and enroll now!
From the first ideas to the finished recordings!
Course Curriculum
Theory
StartAnalizing a Noisia track (16:44)  Also
Drums
Start01 Kick (9:11) Also
Start02 Snare (7:33)
Start03 Hats (3:15)
Start04 Construct the Groove (3:40) Also
Basses
Start05 Dry Bass (10:54)
Start06 Operator Main Bass (7:26)
Start07 Vocal Hit (5:49)
Start08 Dry Bass Resonance FX (6:20) Also
Start09 PitchBend Bass (11:41)
Start10 Stab Basses (9:39)
Start11 Switch Bass (12:37) Also
Intro
Start12 Main Pluck Lead (10:42) Also
Start13 Vocal Like Arpeggio (9:31)
Start14 Screechy Pad (5:17)
Start15 Subby Pad (6:15) Also
Start16 Filtered Pad (12:04)
Start17 Drone Synth (5:56)
Start18 Noisy Pad (10:50) Also
FX
Start19 Weird Op Fx and Impact (7:53) Also
Start20 Mini Kick FX (4:23)
Start21 Vocals and Noise Riser (14:10)
Start22 Riser (8:10) Also
Start23 Drums and Final Touches (14:54)
Start24 Background Filter and FX (8:42)
Start25 Metallic Perc (7:01) Also
The Last Few Steps
Start26 Arrange (12:25)
Start27 Outro (6:44) Also
Start28 Sub (10:15)
Start29 Mixing Mastering (10:54) Also
Downloadable Content
StartBonus Project Download Also
StartMain Project Download
StartDrums Project Download Also
Visit more course:   FINANCIAL DEVELOPMENT
The same course:  M.Rusydi  Marc Yor Rene M.Stulz Robert Cinnamon Srdjan Stojanovic Stephen G.Ryan Steve Dalton . Sumru Altug Suresh Sundaresan Thomas Fitch Tom Taulli Lidiya K Tom Taulli Peter Dunkart. Jo Dunning Brendon Burchard Bob Bly Alex Becker Alan Weiss Talmadge Harper .
Please contact email: [email protected] If you have any question.
Course Features
Lectures

0

Quizzes

0

Duration

35 hours

Skill level

All levels

Language

English

Students

90

Assessments

Yes