Neural Networks in Financial Astrology (Article) by Alphee Lavoie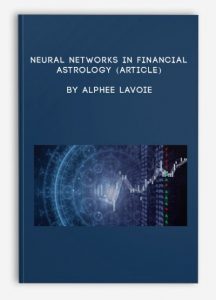 Neural Networks in Financial Astrology (Article) by Alphee Lavoie
About Course
Neural Networks in Financial Astrology (Article) by Alphee Lavoie
AIR Software (USA) has created a new program, Market Trader Expert, to analyze the all stockmarkets. This program uniquely combines methods of technical analysis with astrological insights.This software program is a first because of the newest, latest, cutting edge mathematicaltechniques. In a nutshell, the main idea of the program is to analyze a market within a userspecified time interval and predict its movements. In order to accomplish this we create marketmodels with the program, optimize them within a previously defined time interval and then make a prediction into the future.
My software partner, Alphee Lavoie, and I have done extensive research in the stock markets. As aresult of this work, we combined different analytical techniques. We then took these results andmodified them by a special type of neural network. This neural network is our "know-how",allowing us to achieve very good results. Even when the analyzed market does not have a longhistory. It is here that the blend of astrology and traditional sciences shines. While those who believe that astrology has an effect on the market now have one more 'proof' of their belief,traditional traders also have some alternative to technical analysis methods.
About Arthor
For over 55 years Alphee Lavoie has earned his reputation as a MASTER ASTROLOGER. His humble beginnings brought him from the farmlands of Northern Maine, where only French was spoken. When he was 18 he came to Connecticut to study Engineering. And while doing so, had to simultaneously learn to speak English. In 1965 he started doing astrology as a full time profession. In 1977 he began The Astrological Institute of Research, the first astrology school in Connecticut and center for counseling with astrology. For almost half a century he has made his living exclusively from counseling and teaching astrology. He has achieved expertise in all areas of astrology, including counseling, predictive techniques, horary , electional, mundane, weather, rectification, and financial astrology. Astrology has been his passion for his entire life.
Visit more course:  FOREX TRADING COURSE
The same course:  Bill Williams Eduard Altmann SMB Simpler Trading Van Tharp Atlas Api Training Trading Template Sunil Mangwani Sunil Mangwani Frank Paul . Also  Market Delta Tradingacademy Simplertrading Urbanforex. Also  Candlechartscom Dan Sheridan Pipsociety  Atlas Api Training TopTradeTools Todd Mitchell Jerry Singh OpenTrader Alexandertrading Daytradingzones
Please contact email: [email protected] If you have any question.
Course Features
Lectures

0

Quizzes

0

Duration

35 hours

Skill level

All levels

Language

English

Students

92

Assessments

Yes