Momentum Crash Course by Simpler Trading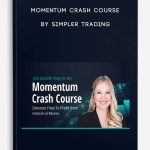 Momentum Crash Course by Simpler Trading
Who Uses This Strategy: Danielle Shay
What: You will learn how the Coronavirus is impacting the World and how we need to recognize when the shift happens so we can stay on the right side of the markets. She will show you what does not work any longer and the tools and setups needed to pull money out of the markets during these critical times. Precision trade timing with three trade setups will help protect your capital during the volatile times. You will learn what the key levels are and how an experienced trader identifies momentum and market feel.
The Momentum Crash Class:

How to time your trades for maximum returns.
Danielle includes her amazing watchlists, checklists, Flex and Swing Grids.
Trade examples of how to increase your account by 117% in 3 months.
Know what Danielle is looking for "After the Virus".
How to use market internals to time and manage your trades with.
How to trade gaps to capture the big moves.
Get ready to take advantage of volatility to generate profits from.
BONUS: The Corona Virus Trading 101 –
Come and join Danielle while she masterfully takes you through the changes to our Macro economy. Get prepared for how to position your portfolio to be ready to take advantage of the new opportunities that will be come available. Know who the winners and losers will be to avoid falling into any of those traps. Learn the three Futures trade setups that Danielle is using to protect her capital and take money out of the markets at the best times. As an additional bonus Danielle includes some of her best ways to measure and tame the markets with her strategic Fibonacci price tools videos.
Asset Class/Markets:
This comprehensive course covers a broad array of markets to trade in, the cash indexes, futures markets and fast hit and run options trades.
Skill Level:
 Danielle is good at teaching traders at various experience levels and with different account sizes. She is going to show you how to trade the cash indexes both to the upside and downside with a combination of swing and day trades. She will show how she turned an account with $2K and grew it into $17K in three months.
Why Buy This Class:
If you want to learn the importance of change, how the market has changed, and how Danielle has adjusted her trading style to change with it than you need Momentum Crash Course. In the market, it is so critical to be constantly adjusting your strategy to change with the flow of the market. What the COVID-19 crisis means for the economy, along with what it means for us as traders. She covers a "Big Picture" overview with key thoughts on what you need to know as far as your investing and trading is concerned. Know what sectors and stocks you should be trading after the Coronavirus.
Course Breakdown
Chapter 1: Corona Virus Bonus Trading 101, 1 session, 52 minutes
Chapter 2: Futures Crash Course, 1 session, 42 minutes
And Chapter 3: After the Virus Bonus Edition, 1 session, 49 minutes
Chapter 4: Momentum Crash Course, 7 sessions, 4 hours 35 minutes
Chapter 5: 2 Days Live Trading Sessions with Danielle Shay
2 Days Elite Live Trading Sessions with Danielle Shay Gum and John Carter
Bonus Fibonacci Price Tools Videos
The Simpler Trading Story
In 1999, John F. Carter, founder of Simpler Trading got tired of talking to his goldfish while trading alone in his office, so he launched Trade the Markets to create a place to post his trading ideas. This company turned into Simpler Options, and as he added additional analysts and branches, he grew it into the company it is now, Simpler Trading.
The Simpler Trading Team
Simpler – Your online trading family. A team that has grown together and learned through experience. We've taken the small trades with consistency and built from them. We've taken the challenging trades and learned from them. And everything in between. We've gotten to know ourselves better, through our trading habits, and grown in ways far beyond trading.
Careers at Simpler
Our company is still relatively small which leaves lots of room for growth and opportunity. Even if we are not hiring for specific positions, we are always looking for fresh ideas, and new experiences to enhance our company. We work hard and play hard.
Visit more course:  FOREX TRADING COURSE
The same course: Bill Williams Eduard Altmann SMB Simpler Trading Van Tharp Atlas Api Training Trading Template Sunil Mangwani Sunil Mangwani Frank Paul . Also  Market Delta Tradingacademy Simplertrading Urbanforex. Also  Candlechartscom Dan Sheridan Pipsociety  Atlas Api Training TopTradeTools Todd Mitchell Jerry Singh OpenTrader Alexandertrading Daytradingzones
Available at traderknow.com
Please contact email: [email protected] If you have any question.
Course Features
Lectures

0

Quizzes

0

Duration

50 hours

Skill level

All levels

Language

English

Students

0

Assessments

Yes