Matthew Syed: Black Box Thinking: Why Most People Never Learn from Their Mistakes–But Some Do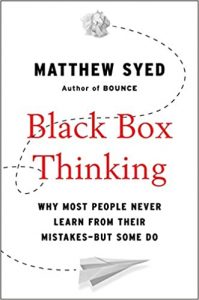 Matthew Syed: Black Box Thinking: Why Most People Never Learn from Their Mistakes–But Some Do
Matthew Syed: Black Box Thinking: Why Most People Never Learn from Their Mistakes–But Some Do
Black Box Thinking
Why most people never learn from their mistakes–but some do
No one wants to fail. But in very complex organizations, success can only happen when we face our mistakes, learn from our own version of the black box, and create a climate in which it is safe to fail.
We all have to fail from time to time, whether it's failing an interview, failing an exam, or losing a basketball game. But for people working in security-critical industries, the wrong decision can have deadly consequences. Think about the shocking fact that preventable medical error is the third-largest killer in the United States, causing more than 400,000 deaths each year. More people die from mistakes made by doctors and hospitals than from road accidents. And most of these errors are never made public due to fraudulent settlements with nondisclosure clauses.
For a radically different approach to failure, look at aviation. Every passenger plane in the world is equipped with an almost indestructible black box. Whenever there is an accident, serious or minor, the box is opened, the data is analyzed. And experts find out exactly what went wrong. Then the facts are published and procedures are changed so that the same mistakes don't happen again. By applying this method in recent decades, the industry has created surprisingly good safety indicators.
Few of us risk our lives in our daily work, as surgeons and pilots do. But we are all very interested in avoiding predictable and preventable mistakes. So why don't we all adopt an aviation approach to failure rather than a healthcare approach? As Matthew Sayed shows in this eye-opening book, the answer is rooted in human psychology and organizational culture.
Syed States that the most important factor for success in any field is the recognition of failure and readiness for it. Yet most of us are stuck in a relationship with failure, which hinders progress, stops innovation, and damages our careers and personal lives. We rarely admit failure or learn from it, although we often claim the opposite. We think we have 20/20 flashbacks, but our vision is usually fuzzy.
Syed draws on a wide range of sources – from anthropology and psychology to history and complexity theory—to explore the subtle but predictable patterns of human error and our defensive responses to error. He also shares fascinating stories about people and organizations that have successfully adopted a "black box" approach to improvement, such as David Beckham, the Mercedes F1 team, and Dropbox.
Visit more course:   FINANCIAL DEVELOPMENT
The same course:  M.Rusydi  Marc Yor Rene M.Stulz Robert Cinnamon Srdjan Stojanovic Stephen G.Ryan Steve Dalton . Also Sumru Altug Suresh Sundaresan Thomas Fitch Tom Taulli Lidiya K Tom Taulli Peter Dunkart. Also Jo Dunning Brendon Burchard Bob Bly Alex Becker Alan Weiss Talmadge Harper .
Available at traderknow.com
Please contact email: [email protected] If you have any question.
Course Features
Lectures

0

Quizzes

0

Duration

50 hours

Skill level

All levels

Language

English

Students

189

Assessments

Yes