Kam Yuen – Chronic Pain TeleClinic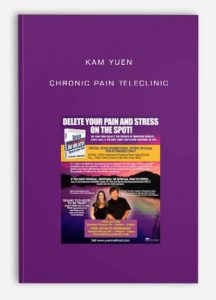 Kam Yuen – Chronic Pain TeleClinic
Kam Yuen – Chronic Pain TeleClinic
The purpose of this chronic pain tele-clinic is to show and allow you to experience that you can relieve, eliminate, delete any pain without physical contact, verbalization.
It does not require you to believe or have faith about the Yuen method. You do not have to travel anywhere to receive results and relief for your and/or your family's chronic/acute pain.
Do you have serious chronic pain that has not received any results or relief, and want it permanently deleted?
You are not alone.
Chronic pain affects nearly 100 million Americans and costs the United States up to $680 billion per year to treat.
It is quoted that "Pain is an enormous burden on the public."
It is noted that "The U.S. government has outlined steps to reduce the future burden of pain through broad-ranging efforts, including enhanced research."
The Yuen Method's New Science of Immediate Results isn't certain what those "…broad-ranging efforts" really means or what the "…including enhanced research…" would entail.
Enough research has already been done on chronic pain and none of it seems innovative. The studies bring up more speculation and suggest the need for more research to support the speculations that haven't led to any immediate results. These actions will most definitely drive up the costs of the $680 billion per year already being spent.
It seems that the National Institute of Health has funded studies that suggest your brain is hard-wired for chronic pain.
Having a picture of a brain to indicate that its white matter may determine susceptibility to chronic pain does not resolve it.
Researchers using brain scans have concluded that the structure of the brain may predict whether a person will suffer chronic low back pain.
Such conclusions, published in the journal Pain, support the growing idea that the brain does play a critical role in chronic pain.
The Yuen Method has been using the brain connection model for decades, recognizing that the brain does contribute to acute/chronic pains. However, the brain has never been accepted as exclusively being the only source of chronic pain. It does not limit pain entirely to just the brain. There are always numerous possibilities.
For example, pain can originate from the spinal cord and other parts of the central nervous system and regions of the body. The Yuen Method research hasn't supported any concepts and treatments of healthcare professionals that do not lead to immediate results.
The Yuen Method and Dr. Yuen, DC only utilize applicable principles that lead to immediate results. It does not postulate any concepts that do not lead to any instantaneous improvement.
We are the leader in resolving chronic pain of all types. In fact our goal is to eradicate chronic pain and acute pain of all types.
Here is a list of chronic/acute pain that will be immediately resolved on the spot
1. Head pain and headaches
2. Facial, Jaw
3. Neck and throat
4. Shoulder, Chest, Midback, Lower back
5. Collar and Shoulder Blade
6. Rib
7. Abdominal
8. Arm Upper, Forearm
9. Elbow
10. Wrist, Hand
11. Finger and Thumb
12. Hip, Waist
13. Upper and Lower Leg
14. Knee
15. Foot, Toes, Ankle
16. Neurological
17. Sinus
18. Lip, Gum Mouth and Teeth
Visit more course:   FINANCIAL DEVELOPMENT
The same course:  M.Rusydi  Marc Yor Rene M.Stulz Robert Cinnamon Srdjan Stojanovic Stephen G.Ryan Steve Dalton . Sumru Altug Suresh Sundaresan Thomas Fitch Tom Taulli Lidiya K Tom Taulli Peter Dunkart. Jo Dunning Brendon Burchard Bob Bly Alex Becker Alan Weiss Talmadge Harper .
Please contact email: [email protected] If you have any question.
Course Features
Lectures

0

Quizzes

0

Duration

40 hours

Skill level

All levels

Language

English

Students

95

Assessments

Yes