Jerry Banfield with EDUfyre – How I Buy Bitcoin at 101% and Sell at 111%!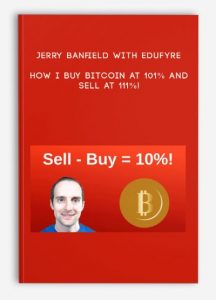 Jerry Banfield with EDUfyre – How I Buy Bitcoin at 101% and Sell at 111%!
About Course
Jerry Banfield with EDUfyre – How I Buy Bitcoin at 101% and Sell at 111%!
Would you like to see how I use the resources I show in the class at https://jerrybanfield.com/bitcoin/ to buy Bitcoin for 101% of market value and then to sell it into cash at 111% of market value? After two years of trading Bitcoin online, I am excited to share the system here I have finally made that allows for consistent positive returns regardless of whether the price goes up or down! Why does this work? People buying Bitcoin with cash are willing to pay a premium markup of around 10% in exchange for having immediate access to their Bitcoin without needing a bank account. I am able to buy Bitcoin for 1% to 2% above market prices using my bank account and then sell for 11% to 12% above market to cash buyers!
Your Instructor(s)

In 2005 while I was in college at the University of South Carolina, I tried to start working online. I signed up for an MLM program and a survey website. A month later, I had refunds from both and figured working online was not possible because everything was a scam. The truth was I was afraid to fail again.
In 2011, I moved in with my wife and launched an online business focusing on video game addiction in an attempt to avoid dealing with any of my other problems. In a few months, I changed my business to selling shirts because I realized there was no money in video game addiction. A year after starting my business, I dropped out of my criminology PHD program at the University of South Florida to run my business full time which by then had changed to helping clients with Facebook and Google ads based on my experience failing to do them successfully for myself.
In 2013, I starting sharing everything I knew for free on YouTube because I hoped it would help me get more clients. By April 2014, I was nearly bankrupt after failing at 15+ different business models. I was also nearly dead from trying to drink the pain away and fortunately the fear of death motivated me to get into recovery. Being in recovery motivated me to focus more on being of true service to others and less on what I would get out of it. I started making courses online with Udemy which soon turned into my first real business. I partnered with as many talented instructors as I could and learned from top instructors how to get my courses the most sales.
In 2015, I tried making some inspirational videos sharing what I learned in recovery and got an amazing response on YouTube. To make the background on my videos more interesting, I started making the inspirational videos while playing video games. To make a more helpful website, I hired a freelancer to convert the videos into blog posts including this about page originally.
Course Curriculum
First Section
Preview

Welcome to helping people buy Bitcoin with cash! (1:14)

Preview

What is Bitcoin? (2:42)

Start

Where do I get a Bitcoin wallet? (6:31)

Start

How do I buy for 1 percent higher than market and sell for 11 percent more? (1:16)

Start

Setting up the seller account and testing the buying process (4:58)

Start

How much have I already sold? (2:12)

Start

What steps to take to make a seller account? (1:47)

Start

Which steps do I take to change my USD into BTC? (4:55)

Start

When will my deposit be confirmed and available for sale? (4:06)

Start

Setting dynamic pricing at 11 percent higher than market for sale (5:03)

Start

Limiting the minimum and maximum sale amount (2:00)

Start

How do I confirm a deposit? (2:00)

Start

How to avoid incorrectly confirming a deposit? (3:47)

Start

Mitigating the risk of Bitcoin prices going up and down (4:45)

Start

Who helps with selling Bitcoin into cash? (2:16)

Start

Why to begin by trying the buying process? (3:09)

Start

Thank you for finishing the class! Would you share what you learned in the project? (0:47)
Crypto Currency trading course: Learn about Crypto Currency trading
A cryptocurrency (or crypto currency) is a digital asset designed to work as a medium of exchange that uses strong cryptography to secure financial transactions,
control the creation of additional units, and verify the transfer of assets.
Cryptocurrencies use decentralized control as opposed to centralized digital currency and central banking systems.
The decentralized control of each cryptocurrency works through distributed ledger technology, typically a blockchain, that serves as a public financial transaction database.
Bitcoin, first released as open-source software in 2009, is generally considered the first decentralized cryptocurrency.
Since the release of bitcoin, over 6,000 altcoins (alternative variants of bitcoin, or other cryptocurrencies) have been created.
Visit more course:  FOREX TRADING COURSE
The same course:  Bill Williams Eduard Altmann SMB Simpler Trading Van Tharp Atlas Api Training Trading Template Sunil Mangwani Sunil Mangwani Frank Paul . Also  Market Delta Tradingacademy Simplertrading Urbanforex. Also  Candlechartscom Dan Sheridan Pipsociety  Atlas Api Training TopTradeTools Todd Mitchell Jerry Singh OpenTrader Alexandertrading Daytradingzones
Please contact email: [email protected] If you have any question.
Course Features
Lectures

0

Quizzes

0

Duration

35 hours

Skill level

All levels

Language

English

Students

95

Assessments

Yes