Implication of the Wave Principle for Technical Analysis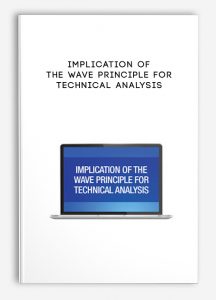 Implication of the Wave Principle for Technical Analysis
About Course
Implication of the Wave Principle for Technical Analysis
"It's time to take technical analysis to the next level"
The craft of technical analysis has been close to Robert Prechter's heart for decades. So it's no surprise that he accepted an invitation to speak with fellow craftsmen at a gathering of the Canadian Society for Technical Analysts in 2009. Also
He used the opportunity to do a lot more than simply talk shop with this prestigious group. He presented his lecture titled Implication of the Wave Principle for Technical Analysis, with "implication" being the key word. Prechter is not one to exaggerate, yet you can be sure of this: after you've watched this presentation, you'll know that the implication is very powerful indeed. Also
In Bob's own words: "It's time to take technical analysis to the next level." This includes "bringing technical analysis into the academic world…by submitting it to very rigorous testing." This video shows you the fascinating results of these rigorous tests. Also
If you've heard Bob speak before, you know that he's uniquely able to connect with novices and experts at the same time. If you haven't heard him, this couldn't be a better introduction. Also
Here's what Prechter presents:
How wave structures can vary but still unfold as recognizable patterns
Is the Wave Principle a better model than standard academic theories and other sophisticated models?
How Elliott wave patterns using actual stock market data compare vs. other models
How and why the Wave Principle agrees with all the best tools of technical analysis – from momentum to sentiment to patterns of every kind
Dow Theory and the Wave Principle: Bob compares and contrasts these two venerable approaches
Edwards & Magee's most well-known market patterns: From the Head and Shoulders to Triangles to Triple Tops – the Wave Principle sheds new light on the research of these pioneers
Why the toys of technical analysis are anything but – in truth, they capture "the essence of human behavior in a finance market"
Forex Trading – Foreign Exchange Course
Want to learn about Forex?
Foreign exchange, or forex, is the conversion of one country's currency into another.
In a free economy, a country's currency is valued according to the laws of supply and demand.
In other words, a currency's value can be pegged to another country's currency, such as the U.S. dollar, or even to a basket of currencies.
A country's currency value may also be set by the country's government.
However, most countries float their currencies freely against those of other countries, which keeps them in constant fluctuation.
Visit more course:  FOREX TRADING COURSE
The same course:  Bill Williams Eduard Altmann SMB Simpler Trading Van Tharp Atlas Api Training Trading Template Sunil Mangwani Sunil Mangwani Frank Paul . Also  Market Delta Tradingacademy Simplertrading Urbanforex. Also  Candlechartscom Dan Sheridan Pipsociety  Atlas Api Training TopTradeTools Todd Mitchell Jerry Singh OpenTrader Alexandertrading Daytradingzones
Please contact email: [email protected] If you have any question.
Course Features
Lectures

0

Quizzes

0

Duration

40 hours

Skill level

All levels

Language

English

Students

94

Assessments

Yes