Harnessing Explosive Market Turns by Jeff Greenblatt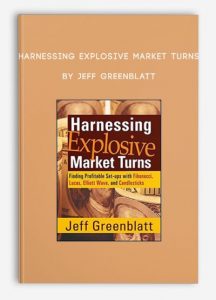 Harnessing Explosive Market Turns by Jeff Greenblatt
Harnessing Explosive Market Turns by Jeff Greenblatt
Product Description
This presentation takes Jeff's techniques to a completely new level. In addition to giving you the details of using polarity lines to confirm new support and resistance Jeff unmasks elements of his system never before taught. Also

YOU'LL SEE JEFF REVEAL:
How to use the patterns found with these indicators, like the first leg down, to avoid limiting your potential profit in trades,
Fully functioning access to Jeff's custom software that allows you to find and see the setups with the click of your mouse,
In-depth historical analysis of the indicators and how they have worked–and could have made money–in virtually every bull and bear market. Also
Now add in the value of Jeff's Time Zone Software that counts the bars for you instantly and I can assure it won't take long to see BIG results. After years of the tedious process counting bars by hand, Jeff dedicated himself to building software that reduces this process to a few seconds. It would literally take half a day or more to scan for and create the charts that produced these set ups. Until now. By making this software available to the public, Jeff's personal charting program can now scan through full lists of stocks and other markets instantly to find these amazing patterns. Also
HERE IS WHY THIS SESSION WAS FILLED WITH TRADERS AND EVEN OTHER PRESENTERS…
Jeff's approach has been producing ideal setup after ideal setup, even in today's wild market. Also
You see, Jeff's system uses a perfect blend of indicators including Fibonacci, Lucas, candlesticks and others to offset the inefficiencies of any one indicator. Also
This has allowed him–and now you–to dial in the optimal winning percentage no matter what you trade or how volatile the market.
The beauty of this approach is that this collection of indicators identifies turning points in ANY market–stocks. Futures, forex, options–that could unleash your trading upside. Also
WHY IS THIS SESSION SO POWERFUL?
With today's wild swings, one of the most important parts of the presentation is the information about how to stay in the rally. And how to get out with the most profit. Also
"The problem with a lot of traders is they don't know when to be quick and when to be greedy. Many who take these trades off the top expect them to go a lot further than they do. But they give it back on the retest. Then they get frustrated and when they should be convicted for the big move, they are not. I think this is the most important thing people should get out of this seminar," Jeff told me after his session. His clear instruction on how to let the charts tell you how to hold on to your profit. And when to protect your capital were written down by even the other presenters who sat in his session. Also
AND THEN IT GOT BETTER…
The actionable setups offered by precise counting of bars to reveal turning points are staggering. Jeff is convinced that any trader can benefit big-time from these techniques. But, he didn't stop there. Also He set about developing software that automatically shows the results of his amazing system. Now, after almost a year of development in conjunction with industry leader Genesis Navigator, his software is ready for you. WHAT TOOK HALF A DAY NOW HAPPENS IN SECONDS. And if that wasn't enough, Jeff designed a scanner that evaluates hundreds of charts to find his most promising setups, instantly. Also
Visit more course:  FOREX TRADING COURSE
The same course:  Bill Williams Eduard Altmann SMB Simpler Trading Van Tharp Atlas Api Training Trading Template Sunil Mangwani Sunil Mangwani Frank Paul . Also  Market Delta Tradingacademy Simplertrading Urbanforex. Also  Candlechartscom Dan Sheridan Pipsociety  Atlas Api Training TopTradeTools Todd Mitchell Jerry Singh OpenTrader Alexandertrading Daytradingzones
Available at traderknow.com
Please contact email: [email protected] If you have any question.
Course Features
Lectures

0

Quizzes

0

Duration

30 hours

Skill level

All levels

Language

English

Students

97

Assessments

Yes