Day Trading Strategies by Rockwell Trading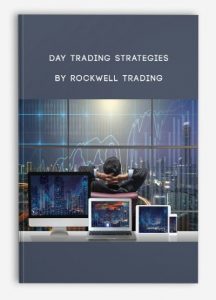 Day Trading Strategies by Rockwell Trading
About Course
Day Trading Strategies by Rockwell Trading
Looking For A Day Trading Strategy?
Learn How To Trade Sideways Markets With "The Ping Pong Strategy"
Getting whipsawed in a sideways market?
If so, then most probably you are using a trend-following strategy in a sideways market. And that's a common problem: Many traders KNOW how to trade a trending market. You know what they say: "Follow the trend. The trend is your friend!"
Unfortunately the markets are not trending all the time. Sometimes they just move sideways. But as a trader, you MUST be able to trade the market in any condition, whether it's going up, down or sideways.
And you might have heard that markets are only trending 20% of the time. So what do you do when the markets are moving sideways?
Very easy: You use The Ping Pong Strategy.
Discover The Ping Pong Strategy
Attached is a 1-min chart of the e-mini S&P. As you can see, the market is clearly moving sideways, yet we can extract some points in a short period of time applying the rules of the Ping Pong Strategy.
Advantages of The Ping Pong Strategy:
• Great for trading e-mini S&P and Euro FX Futures
As you know, the e-mini S&P is the most popular and most liquid futures contract in the world, and you get great commission rates and low margin requirements.
• Doesn't need any indicators
A simple bar or candlestick chart is sufficient. Therefore you can trade it with any charting software, as long as you software supports range bars (yes, THAT is the trick!)
• Small but consistent profits
In a trending market, you might hit home-runs, but in a sideways market you are trying to make $50 – $100 per trade per contract. You are basically "nibbling" the market.
• Works great in a market that trades in a narrow range
The best condiion for this strategy is a range of 3 points for the e-mini S&P and 20-25 ticks for the Euro FX Futures. And as you know, often the markets are tradin in exactly these ranges.
• You can trade the strategy any time of the day
Morning, lunch, afternoon, evening – it doesn't matter. As long as you can identify a rangebound market, you can trade the strategy. However, trading in the evenings you might be in a trade for a very long time, so the best time to trade this strategy is any time between 9:30am and 4:00pm Eastern Time, which are the regular trading hours for these markets.
Before you get overly excited now, let me issue some warnings:
• This strategy is always in the market
Therefore you must stay in front of your computer while trading the strategy.
• The Ping-Pong Strategy is a strategy for a sideways market
Do NOT use it in a trending market. Use your favorite trend-following strategy instead, and reserve the Ping Pong Strategy for a market that's trading in a narrow range.
Here's What You Will Get
You will get five videos on two DVDs.
• Module 1: The Rules Of The Ping Pong Strategy
In this module we present the easy rules of the strategy and when to use it. As mentioned before: You don't have to learn any complicated indicators, and you will learn how to trade this strategy in less than 10 min.
• Module 2: How To Trade The Ping Pong Strategy
In this module we will show you how to set up your charting software and how to use your trading platform for entering the orders of the strategy. Although we will use Rockwell Trade Navigator (30-day trial is included in this course) and Infinity AT as a trading platform, you can use any charting software and trading platform as long as you can display range bars.
• Module 3: Examples
In this module we will show you many examples of the Ping Pong strategy so that you see exactly how it works.
• Module 4: The Boomerang Strategy
We added just one simple rule to our Ping Pong Strategy and turned it into a trend-following strategy. We call this modification "The Boomerang Strategy" and you can trade it in trending markets. So you basically get two strategies in one: A trend-following and a trend-fading strategy!
• Module 5: The Seahawk Strategy
This variation of the Ping-Pong Strategy let's you soar over the markets and swoop down to skim a quick profit when the time is right. You can apply this strategy in any market condition: up, down or sideways. Using this strategy you get two entry signals on each bar, and once in a trade you use a small profit target to quickly exit the trade. This strategy is perfect for traders who can't watch the markets all day.
Visit more course:  FOREX TRADING COURSE
The same course:  Bill Williams Eduard Altmann SMB Simpler Trading Van Tharp Atlas Api Training Trading Template Sunil Mangwani Sunil Mangwani Frank Paul . Also  Market Delta Tradingacademy Simplertrading Urbanforex. Also  Candlechartscom Dan Sheridan Pipsociety  Atlas Api Training TopTradeTools Todd Mitchell Jerry Singh OpenTrader Alexandertrading Daytradingzones
Please contact email: [email protected] If you have any question.
Course Features
Lectures

0

Quizzes

0

Duration

30 hours

Skill level

All levels

Language

English

Students

97

Assessments

Yes