Connel Fullenkamp – Understanding Investments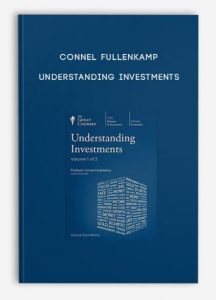 Connel Fullenkamp – Understanding Investments
About Course
Connel Fullenkamp – Understanding Investments
What are your most important financial goals? Sending your kids to college? Buying a new home? Retiring early? Having the freedom to not worry about whether you can afford to buy a new car or go on vacation?
It's your financial resources that are the determining factor in how you're able to answer these and a host of other questions. And few things are as important in determining just what those financial resources are as your understanding of where and how to invest. Also
Investing, and the skills to succeed at it, play critical roles in building and maintaining your financial resources. And investment opportunities are available to everyone. Also
No matter where on your financial timeline you may be—whether you're just starting out, approaching retirement, or somewhere in between—there is no question that improving and enhancing your investment skills can have a positive impact on your financial life and in turn, your life goals.
Understanding Investments helps you do just that. In 24 lectures, it introduces the fundamentals of investing to those new to the subject while broadening and deepening the knowledge of more experienced investors. Also
Taught by Professor Connel Fullenkamp, an award-winning educator from Duke University who regularly consults in the world of international finance, these lectures clearly explain the various kinds of financial markets, the different kinds of investments available to you, and the pros and cons of each. Even more important: The course shows you how to evaluate each of these in terms of your own financial situation. Also
ESSENTIAL KNOWLEDGE FOR NEWCOMERS AND EXPERIENCED INVESTORS
If you're a newcomer to investing, Understanding Investments will give you the confidence—and specific tools—to
get your feet wet in the investment world and begin building your investment portfolio, even if you have to start small;
better understand the recommendations and advice of more experienced investors and financial advisors;
develop your own personal investment plan; and
move toward realizing your plan's goals with as little anxiety and fear as possible.
And if you happen to be that more experienced investor, this course will
introduce you to some advanced investment strategies and opportunities;
show you how to stay on top of your portfolio, and
adjust its direction as economic conditions—or your own plans—change. Also
In addition to making you a more knowledgeable and confident investor, Understanding Investments will also help you make sense of the financial news that makes up an increasing share of what you read in our newspapers, watch on television, or discover on the Internet. And it will also help you better grasp the financial condition and performance of the company at which you work, which can be invaluable in making key career decisions. Also
Using case studies, actual trading examples, and visual aids—including charts, graphs, and even the step-by-step construction of a simple financial planning spreadsheet—Professor Fullenkamp makes every point clear, so that no previous knowledge of the subject is required. You'll learn how the world of money works in plain English, with the only insider jargon being the specific terms you need to know in order to safely navigate the investment marketplace and understand what is being offered to you. Also
LEARN HOW TO INVEST WITH CONFIDENCE AND SUCCESS
In Understanding Investments, you learn the essential information every investor needs to know, including
the basics of the stock market;
investment options like stocks, bonds, and mutual funds, as well as other instruments like exchange-traded funds (or "ETFs") that go beyond these standard choices;
how to read and understand stock quotes and indexes;
tools and simple calculation techniques for researching companies you may be considering as potential investments;
the ins and outs of online investing;
what dividends and stock splits are really meant to accomplish; Also
the characteristics of bull and bear markets;
the importance of regularly reassessing your financial goals;
the management of diversification and risk, including the keys to avoiding the most common ways in which these two key factors are commonly misunderstood; and
the importance of a well-thought-out plan for continuing to invest after retirement. Also
In addition, Professor Fullenkamp makes a point of discussing some of the latest findings in behavioral economics so you can grasp the psychological forces investors face in various investment situations. These forces may well be helping to drive any decisions you make, and understanding their presence is an important defense against being driven in the wrong direction, even to the point of inadvertently sabotaging your investments. Also
For example, we've all seen the fortunes made by those lucky enough to be in on the initial public offerings—or IPOs—of companies that went on to become enormous successes. And most of us would plead guilty to dreaming of getting in on the ground floor of the next startup that goes on to become a Coca-Cola or an Apple or a Microsoft. Also
But if you ever have the opportunity to invest in a startup, you'll be grateful for the tools Professor Fullenkamp gives you to wade through the complexities and psychological hazards. He shows you how to objectively evaluate a startup, determine its possibilities for success, and decide—with as little emotion as possible, and with full awareness of what psychological forces might be at play—whether it warrants a place in your portfolio. Also
INVEST WITH MINIMAL FEAR AND MAXIMUM CONFIDENCE
You'll be using the same skills this course has been designed to give you when you evaluate any investment opportunity—skills that will allow you to invest with as little fear and as much confidence as possible. And, as your professor notes, that's the whole idea. Also
"Because investing looks complicated and risky, most people don't feel well-prepared to make investment decisions,"Professor Fullenkamp says. "And when we don't feel prepared to make decisions, we put them off, if we can. And it's so easy to put off investing decisions, because there's no real deadline. Also
"But putting off investing is one of the biggest mistakes that people make with their personal finances. It turns time, which can be one of your best allies, into your worst enemy."
By showing you a way around this mistake, Understanding Investments can be, long before you ever stride into that financial marketplace, the smartest investment you make. Also
Please note: This course is not intended to provide explicit financial or investment advice. All investments involve risk: Past performance does not guarantee future success. You acknowledge that any reliance on any information from the materials contained in this course shall be at your own risk. Also
Visit more course:   FINANCIAL DEVELOPMENT
The same course:  M.Rusydi  Marc Yor Rene M.Stulz Robert Cinnamon Srdjan Stojanovic Stephen G.Ryan Steve Dalton . Sumru Altug Suresh Sundaresan Thomas Fitch Tom Taulli Lidiya K Tom Taulli Peter Dunkart. Jo Dunning Brendon Burchard Bob Bly Alex Becker Alan Weiss Talmadge Harper .
Please contact email: [email protected] If you have any question.
Course Features
Lectures

0

Quizzes

0

Duration

35 hours

Skill level

All levels

Language

English

Students

97

Assessments

Yes