Breaking Into Wall Street – Advanced Financial Modeling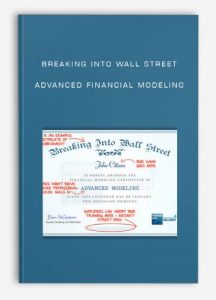 Breaking Into Wall Street – Advanced Financial Modeling
About Course
Breaking Into Wall Street – Advanced Financial Modeling
BIWS Advanced Financial Modeling is a fast-track course in financial modeling as it is performed in real-life every day, at investment banks, hedge funds, and private equity firms. Also
It's based on a real-life case study of Microsoft's attempted $44 billion acquisition of Yahoo – using the same case study-oriented approach to learning that Harvard Business School uses. Also
You'll get 100 training videos total (36 hours of footage), which cover advanced operating models, valuation based on SEC filings and equity research, complex merger models, advanced LBO models, and pitch books / deal commentary.Are you looking for a way to learn or upgrade your financial modeling skills, but don't know where to turn?
Advanced Financial Modeling from Breaking Into Wall Street teaches you how investment bankers model and value real companies in real life. Also

It allows you to master advanced financial modeling skills. Without rocket-science math and without hundreds of hours of boring academic study, by completing:
A detailed operating model with revenue and expense projections by business segment
A full valuation using 9 different methodologies
An advanced merger model that combines all 3 statements
An advanced LBO model with support for 7 tranches of debt
What Sets This Course Apart 
From Everything Else On The Market?
First, the Advanced Financial Modeling course is NOT simply academic theory. It's based on a real-life case study of Microsoft's attempted $44 billion acquisition of Yahoo , so we take the same approach to learning that Harvard Business School does: case studies. Also
And it's the most user-friendly and time-effective way to learn these advanced financial modeling skills – here's what's in it for you:
Dominate Your Interviews. You'll learn concepts here that go beyond what you do on the job every day – master those, and normal interview questions will be a joke. Whether you're preparing for interviews in investment banking, private equity, hedge funds, or anything else, you're covered. Also
Prepare for IB and PE Case Studies . Everything is based on case studies of real deals – primarily Microsoft's proposed $44B acquisition of Yahoo! – and we include several additional case studies on the $3B TPG / J Crew deal, the $5B ConAgra / Ralcorp bid, and Intel's $8B acquisition of McAfee. You'll know exactly what interviewers are looking for in case studies, and how to set up your models and answer questions successfully. Also
Learn by Watching with Video-Based Training. There's no substitute for watching a pro go through everything in Excel, so that's exactly what you get here. But sometimes you also want it in writing, so you'll also get quick reference guide PDFs for topics like Stock vs. Asset vs. 338(h)(10) deals and key formulas in transactional models. Also
Test Your Knowledge with Practice Exercises. You'll get "Before" and "After" Excel files for each lesson – follow along with the lesson, and then check your answers afterward.
Track Your Progress and Take Notes. You can check off each lesson as you move through the material, and take notes on everything – you can come back whenever you want, to refresh yourself on whatever you want. Also
Course Certifications. After completing the course material, you'll be eligible to take our Certification Quiz. Once you pass the quiz, you'll receive a Certificate that you can add to your resume / CV and refer to in interviews.
Learn Advanced Nuances of Accounting, Valuation, and Merger and LBO Models. We go in-depth into topics like Non controlling Interests and Equity Investments, different Depreciation methods and book vs. cash taxes, non-recurring charges and calendarization, and "industrial-strength" merger and LBO models. After you master these topics, you'll be in the top 1% of your class and you'll be well-positioned for bonuses, exit opportunities, and more. Also
Learn How to Use Equity Research and Filings. Always know where to find everything – you'll learn how to adjust for non-recurring charges, how to look up numbers in equity research, and how to complete valuations even when information is scarce (with acquisitions of private companies, for example).
Get All Your Questions Answered. You'll get world-class support – experienced bankers will answer your questions, comments, and emails 365 days per year. Also
What You Get – And What the Advanced 
Financial Modeling Course Will Do for You …
Here's what's included in the Advanced Financial Modeling course:
100 training videos total (36 hours of footage).
Lessons cover advanced operating models, valuations based on SEC filings and equity research, complex merger models, advanced LBO models , and pitch books and deal commentary .
Operating Model lessons teach you how to create a detailed 3-statement model , including revenue and expenses by segment, Noncontrolling Interests and Equity Investments, PP&E schedules, deferred taxes , and quarterly projections. Also
Valuation lessons cover how to spread comps , adjust for non-recurring charges, calendarize financials, how to value NOLs and equity investments , and how to complete a DCF analysis with mid-year discounts and stub periods; you'll also learn future share price analysis, sum-of-the-parts valuation , and liquidation valuation. Also
Advanced Merger Model coverage teaches you how to combine all 3 statements , create multiple scenarios , build an advanced purchase price allocation schedule that supports stock vs. asset vs. 338(h)(10) deals, calculate revenue and expense synergies by business segment, and factor in book vs. cash taxes and Section 382 NOLs. Also
Advanced LBO Model lessons show you how to modify an operating model to make it into an LBO model, and how to build in support for 7 debt tranches , multiple capital structure scenarios , and an advanced debt schedule with customizable repayment terms.
You'll also get a sample pitch book and PowerPoint tips as well as commentary on the deal itself. Also
You receive instant access when you sign up because everything is delivered online – no shipping charges or physical products to worry about.
Free lifetime updates and support. Also
Visit more course:   FINANCIAL DEVELOPMENT
The same course:  M.Rusydi  Marc Yor Rene M.Stulz Robert Cinnamon Srdjan Stojanovic Stephen G.Ryan Steve Dalton . Sumru Altug Suresh Sundaresan Thomas Fitch Tom Taulli Lidiya K Tom Taulli Peter Dunkart. Jo Dunning Brendon Burchard Bob Bly Alex Becker Alan Weiss Talmadge Harper .
Please contact email: [email protected] If you have any question.
Course Features
Lectures

0

Quizzes

0

Duration

40 hours

Skill level

All levels

Language

English

Students

96

Assessments

Yes