Bob Brenner's Client Sessions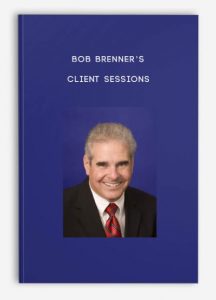 Bob Brenner's Client Sessions
About Course
Nick Client #1
Detailed Commentary
Nick has come to us with two problems. First has to do with a social phobia. This phobia is causing Nick to be unable to work. He's in his early to mid-20s and about to go on for disability because of this phobia. The second problem that Nick is facing is IBS. This is also a debilitating problem for him. Also
In this video you will be able to watch as Bob Brenner uses deep hypnosis as a tool to find the cause of both of Nick's problems which have helped him solve the problem. After this one session with Nick both of his problems seem to be gone forever. Also
Bob will take time to explain each step of the process so that it becomes duplicatable for you and your clients. The package includes the digital video and written transcript of the full session along with Bob's commentary
Rachel Client #2
Detailed Commentary
Evelyn Client #3
Detailed Commentary
Rachel came to us suffering from anxiety, allergies, and a skin problem known as eczema. Besides these symptoms she also was involved with conflicts with her family and her husband is about to lose his job and would most likely not be able to find another.
In this video you will see us use hypnoanalysis to discover who was most influential in helping her develop this self-image that led to most of these problems. You will also be able to watch as we use exciting transformational processes to help her find relief that she's been looking for. Also
Along the way I will be stopping the video to give you my commentary in order to help you understand how and why we were able to help her. And of course our transcription booklet comes along with package so that you can follow along as we solve her problems
Helping people lose weight is an important aspect of our profession.
Evelyn came to us needing to lose a great deal of weight. Because of her size her social life was nonexistent. Also
In this video you watch as we learn who she is and some of the negative aspects of her life. You see how we bring about the hypnotic phenomena and then deepen her trance. Learn how we discover the true ISE of the problem she has presented to us. And you see how we change the response that Evelyn learned as a very young child. Then we used the child to show the adult that she no longer needs to punish herselfin the manner she had been.
During the second session, which is also part of this program, Evelyn was taught how to alter the habits that help to create the person she had become. Also
Watch it, Hear it, And Lean From It,
Down Load it Now
Watch Your Clients reach Their Goals
As You Reach YOURS!
Melissa Client #4
Detailed Commentary
Melissa has been suffering, as long as she can remember, from acute asthma. The asthma is keeping Melissa from being able to function at 100% in her chosen profession, a geologist. She also suffers from several allergies and what she believes to be some form of anxiety.
In this video you will watch as we quickly discover several of the people and events, including a rape by multiple subjects at the age of 15, which were contributors to the problems she has come to us with. You will learn how we allow her subconscious mind to remove all the negative effects of her past. Melissa forgives, not condones, all the people that it in some way have managed to hurt her.
This video contains two sessions. In the first session we help her eliminate the asthma that has limited her success as a geologist.
Also, in the first session, you learn how to remove all the negativity attached to the horrific rape she experienced. In the second session her remaining allergies are removed and she becomes a changed woman right before your eyes.
Ruth Client #5
Detailed Commentary
As far back as Ruth can recall she has been in a battle for control of her weight. Ruth has gained weight and then lost the weight meaning that before she could enjoy the weight loss she would gain it plus more back. For her it is been a constant battle and one she isn't able to control.
In this video you learn how we help Ruth find the cause of her anxiety, her weight and her relationship with alcohol. Once we complete the hypnoanalysis portion of the session you are able to learn how we transition into the transformational portion of the session. When the session is finished you see Ruth free of her past and enjoying life as it was meant to be enjoyed.
Why Wait When You Can
Own It InThe twinkling Of A Digit
Download This One Now!!
Mary Client #6
Detailed Commentary
Mary is an intriguing client. As you are able see in this video, phobias are quite simple to remove. However as it turns out, Mary is quite an analytical person and she has allowed her analytical personality to make our work more difficult. Mary also informs us that she has been suffering from fibromyalgia. This is normally very simple to deal with.
As you watch the video you may note that although Mary's analytical personality makes it difficult, I make a major blunder that increases the difficulty. As we move from step to step my commentary lets you know what and why we are doing the things we do. In the commentary I point out the error I make just prior to making it so that you might avoid repeating my goofs.
As with all our internship programs, your video package includes a transcription book that follows the video word for word. You don't want to miss this powerful learning tool.
Visit more course:   FINANCIAL DEVELOPMENT
The same course:  M.Rusydi  Marc Yor Rene M.Stulz Robert Cinnamon Srdjan Stojanovic Stephen G.Ryan Steve Dalton . Sumru Altug Suresh Sundaresan Thomas Fitch Tom Taulli Lidiya K Tom Taulli Peter Dunkart. Jo Dunning Brendon Burchard Bob Bly Alex Becker Alan Weiss Talmadge Harper .
Please contact email: [email protected] If you have any question.
Course Features
Lectures

0

Quizzes

0

Duration

40 hours

Skill level

All levels

Language

English

Students

92

Assessments

Yes