Barry Herman – Global Financial Turmoil & Reform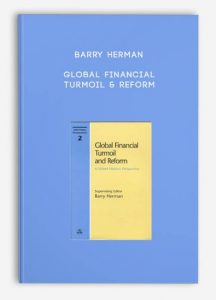 Barry Herman – Global Financial Turmoil & Reform
Barry Herman – Global Financial Turmoil & Reform
As Asia's financial and economic crisis deepened and spread around the world. United Nations economists on five continents shared notes in order to understand the upheaval . And suggest reforms at national and international levels Also
This process led the Secretary-General to present a set of recommendations to the General Assembly on methods to strengthen the capacity of developing and transitional economies to cope with international financial volatility and to reduce risks posed by the current international financial system. It also resulted in a joint statement by UN economic and social affairs officials to the ministerial committees that oversee the Bretton Woods institutions. Also
This volume presents the results of these exercises, including revised and updated papers and summaries of July 1998 meetings at which economists and scholars discussed the crisis in terms of the behaviour of direct investors and financial markets. Also
In the rapidly changing discussions of financial policy reform, ideas formerly outside of mainstream theory have gained a wider hearing. This dynamic dialogue is reflected in this book.
Barry Herman is chief of the international Economics Relations Branch in the UN Secretariat's Department of Economic and Social Affairs. Also
About Arthor
Barry Herman is a member of the Board of Social Justice in Global Development (www.socdevjustice.org), an international CSO and member of the Global Coalition for Social Protection Floors. He has been a Visiting Scholar since July 2016 at the Julien J. Studley Graduate Program in International Affairs at The New School in New York, after teaching there for a decade, including a course on public finance and sovereign debt. Also
He retired from the United Nations Secretariat in December 2005, after almost 30 years, where he had led a team undertaking research and supporting negotiations on international economic and financial issues, including in the preparations and follow up to the first International Conference on Financing for Development in Monterrey, Mexico in 2002.
Also He has consulted on policy issues in sovereign debt, financing social protection floors, global economic governance and other international financial issues for the UN, the Commonwealth Secretariat, the German Corporation for International Cooperation (GIZ), the World Council of Churches, Brot fuer die Welt and the Friedrich-Ebert-Stiftung. He holds a PhD (Economics) from the University of Michigan and an MBA from the University of Chicago. Also
Visit more course:   FINANCIAL DEVELOPMENT
The same course:  M.Rusydi  Marc Yor Rene M.Stulz Robert Cinnamon Srdjan Stojanovic Stephen G.Ryan Steve Dalton . Also Sumru Altug Suresh Sundaresan Thomas Fitch Tom Taulli Lidiya K Tom Taulli Peter Dunkart. Also Jo Dunning Brendon Burchard Bob Bly Alex Becker Alan Weiss Talmadge Harper .
Please contact email: [email protected] If you have any question.
Course Features
Lectures

0

Quizzes

0

Duration

35 hours

Skill level

All levels

Language

English

Students

99

Assessments

Yes