Accounting Basics for Success in Business and in Life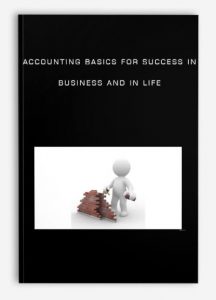 Accounting Basics for Success in Business and in Life
Accounting Basics for Success in Business and in Life
Has Accounting always sounded like a foreign language to you?
Do Financial Statements add so much confusion to your life that you secretly avoid them?
If you are struggling to understand 'the numbers' as they say and have answered YES to ANY of these questions – You've come to the right place. Also
"Over 1,800 people have trusted this course to give them a good overview of the most important aspects of Accounts and Financial Statements"
This course is designed to give you must needed insights into the World of Accounts where we go over the building blocks of Bookkeeping, Accounting, Financial Statements and Ratio Analysis together. Also
There are Six Sections to this Course –
The First Section goes through Accounting Lingo and is perfect for beginners to start understanding the language of Accounts . This section is meant for people who have little working knowledge of accounts. This Section will help bring you up to speed with Basic Accounting Vocabulary. After all, if you were to learn any Language you would start with the ABC's right? Also
In the Second Section – We go through what is called the Accounting Cycle (which in plain English simply means the process Accountants follow). If you've ever wondered what Accountants really do- you'll get a sneak peek in this section. Plus, I give you a cool little trick to understand journal entries – the building blocks of accounting functionality. If Debits and Credits have ever confused you in school- you'll never be confused again. Many people also get confused by the term Bookkeepingand don't fully understand the functioning of Bookkeepers in the Business process and we also go over that together in this section. Once you know more about the Accounting Cycle you'll uncover the mystery behind the numbers of your Business. Also
Section Three takes us away from the world of the theoretical into the world of the practical as we take the knowledge we have learned from Sections 1 & 2 and put it into practice by taking a deep dive and learning a Free Accounting Software called Wave. Also

In Section Four – we will look at and understand the 3 Main Financial Statements – The Balance Sheet, The Income Statement and the Cash Flow Statement. If you have not understood Financial Statements in the past and why they are so important – You've been missing out! Understanding Financial Statements is a MUST for anybody who wants to make a dent in the world of Business. If you own a Business or ever plan to own one – Understanding how to read Financial Statements can take you from being a good business owner to a great one. They can take you from an Average investor to a Savvy one. Also
Section Five teaches you Ratio Analysis. Ratio Analysis allows you to thoroughly analyze a company's performance using the companies Financial Statements. Learning how to calculate Financial Ratios can help give you quick and insightful information about companies. Also
Last, but not least we have all the commonly asked questions as part of an ongoing library assembled and put together in Section Six.
This course is made in an easy to follow, topic by topic format with plenty of quizzes to test your learning along the way. You will also be seeing a bit of my zany humor in bits and pieces so please find it in your heart to forgive me. After all, most accounting courses have put me to sleep and if that's the kind of course your looking for then this course is not for you. This Course is also NOT designed to save your Marriage or get you a date with Katy Perry (Or Brad Pitt if you prefer). See, I warned you about my zany humor, didn't I? Also

Apart from any of the humor – more importantly – This Course WILL give you a Good rundown into the world of Accounts – something which I believe will help you and your business in many ways throughout your lifetime. Also
With Best Regards,
Uday Gehani
Who is this course for?
Anyone who are is not familiar with Accounting and wants to learn more in a quick and fun way.
Business Owners looking for a quick refresher to Basics of Financial Accounting.
Managers with limited accounting backgrounds.
Budding Investors who think reading Financial Statements and Understanding Accounts is their 'weakest link.'
Get Business online course
Information about business:
Business is the activity of making one's living or making money by producing or buying and selling products (such as goods and services).
[need quotation to verify] Simply put, it is "any activity or enterprise entered into for profit.
It does not mean it is a company, a corporation, partnership, or have any such formal organization, but it can range from a street peddler to General Motors."
Having a business name does not separate the business entity from the owner, which means that the owner of the business is responsible and liable for debts incurred by the business.
If the business acquires debts, the creditors can go after the owner's personal possessions.
A business structure does not allow for corporate tax rates. The proprietor is personally taxed on all income from the business.
Visit more course:   FINANCIAL DEVELOPMENT
The same course:  M.Rusydi  Marc Yor Rene M.Stulz Robert Cinnamon Srdjan Stojanovic Stephen G.Ryan Steve Dalton . Sumru Altug Suresh Sundaresan Thomas Fitch Tom Taulli Lidiya K Tom Taulli Peter Dunkart. Jo Dunning Brendon Burchard Bob Bly Alex Becker Alan Weiss Talmadge Harper .
Please contact email: [email protected] If you have any question.
Course Features
Lectures

0

Quizzes

0

Duration

50 hours

Skill level

All levels

Language

English

Students

93

Assessments

Yes