7 DAY INTENSIVE ONLINE TRADER TRAINING PROGRAMME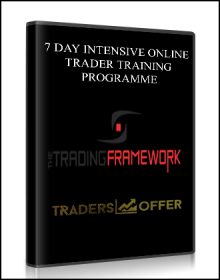 7 DAY INTENSIVE ONLINE TRADER TRAINING PROGRAMME
About Course
7 DAY INTENSIVE ONLINE TRADER TRAINING PROGRAMME
Save 500 GBP ! – For a limited time 1000 GBP instead of 1500 GBP
RECENTLY RECORDED LIVE EVENT COMPLETED: Saturday 11th March 2017 until Friday 17th March 2017.
ALL 7 DAYS NOW AVAILABLE TO VIEW INSTANTLY ONLINE!
After over 15 years of day trading myself and over 10 years of coaching experience working with traders from all walks of life, I have decided it was time to launch the most comprehensive, and complete online training programme. Also
This includes Training of concepts and trading strategies, however most importantly 5 days of live trading examples of how to apply what was taught in the first 2 days. For many years' traders, have said that it would be great to watch over me as I do my thing each day in the European and US markets. Also
I will cover Intra-Day Swing Trading as well as Scalping, just as I practice right now. Coverage of Euro Bund, EuroStoxx 50, Dax, Mini-Dax, E-mini S&P, Mini Dow, Mini Nasdaq and Crude Oil. Also
Here is how the days are broken down with times in GMT (London)…
---
2 DAYS RESERVED FOR:
• Complete and thorough Understanding of Auction Market Theory, MarketVolume profile and the Trading Framework Concepts.
• An in-depth overview and explanation of the process of Planning, Analysis through to execution and trade management. Also
---
5 DAYS OF LIVE PLANNING, ANALYSIS AND TRADING EXAMPLES:
DAY 1
1pm GMT – Introduction
1.20pm – Auction Market Theory and the Negotiation Process
2.30pm – Reading Price Action and Volume Profiles. Also
3.30pm – Break
4.15pm – Understanding and finding Value in the Markets to suit your Objectives. Also
5pm – Importance of the Fractal nature of Stage and Cycles in the markets.
5.30pm – Market Harmonics and Fibonacci Analysis
6.15pm – Example Framework Applications Also
7.15pm – Review of Key Concepts with Q and A.
DAY 2
1pm GMT – Review of Yesterday's Key Points Also
1.20pm – Timing and Execution Process
2.30pm – Reading Order Flow Dynamics Also
3.30pm – Break
4.15pm – Reading the DOM, Footprints, Jigsaw and other tools. Also
5pm – Risk Management Strategies
5.30pm – Position Sizing and Creating Dynamic Risk and Position Sizing Plans.
6.15pm – Trade Management Strategies
7.15pm – Review of Key Concepts with Q and A.
DAY 3-DAY 7 (TOTAL 5 DAYS)
6.30am GMT – Pre-Market Analysis performed LIVE ahead of the European Market Open as Kam prepares to trade the Euro Bund and EuroStoxx 50
10.00am – Application of concepts for Scalping Mini-Dax.
11.00am – Break until US Markets Session.
1.30pm– Pre-Market Analysis performed LIVE ahead of the US Market Open as Kam prepares to trade the Emini S&P, Mini-Dow, Nasdaq andor Crude Oil.
4.00pm – Close of Trading session for entries and new trades, existing trades will remain open and discussed.
4.10pm – Review of Analysis, Trades etc with Q and A.
Want to learn about Forex?
Foreign exchange, or forex, is the conversion of one country's currency into another.
In a free economy, a country's currency is valued according to the laws of supply and demand.
In other words, a currency's value can be pegged to another country's currency, such as the U.S. dollar, or even to a basket of currencies.
A country's currency value may also be set by the country's government.
However, most countries float their currencies freely against those of other countries, which keeps them in constant fluctuation.
TO GET ACCESS: Simply checkout by choosing and option on the right for our standard payment system (Stripe)  OR use PayPal payment option with the button below:
For a limited time SAVE £500 GBP
Just £1000 GBP instead of 1500 GBP
Visit more course:  FOREX TRADING COURSE
The same course:  Bill Williams Eduard Altmann SMB Simpler Trading Van Tharp Atlas Api Training Trading Template Sunil Mangwani Sunil Mangwani Frank Paul . Also  Market Delta Tradingacademy Simplertrading Urbanforex. Also  Candlechartscom Dan Sheridan Pipsociety  Atlas Api Training TopTradeTools Todd Mitchell Jerry Singh OpenTrader Alexandertrading Daytradingzones
Please contact email: [email protected] If you have any question.
Course Features
Lectures

0

Quizzes

0

Duration

45 hours

Skill level

All levels

Language

English

Students

91

Assessments

Yes