30-Day Financial Freedom Tele (Jul 30 – Aug 30 2020) by Release Technique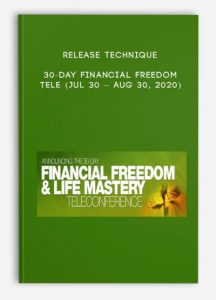 30-Day Financial Freedom Tele (Jul 30 – Aug 30 2020) by Release Technique
Description
Whatever your money problem is, whatever your job problem is, whatever your income problem is, you can change it for the better in no time at all, if you fully release on it.
Join us for this amazing month long, on-line event, focused on financial freedom, confidence and abundance!
This teleconference will show you how to remove your self-sabotaging: "don't deserve," "can't do it," "not motivated," and the fearful thoughts related to money, business, career and will also ensure you have positive and life-changing gains in other areas of your life.
And all this while you participate from the comfort of your home!
This program is not for those that are just talking the talk but not walking the walk. "How you do anything is how you do everything", you heard Larry say numerous times. There are requirements that you absolutely need to fulfill in order to receive maximum benefits!
Visit more course:   FINANCIAL DEVELOPMENT
The same course:  M.Rusydi  Marc Yor Rene M.Stulz Robert Cinnamon Srdjan Stojanovic Stephen G.Ryan Steve Dalton . Sumru Altug Suresh Sundaresan Thomas Fitch Tom Taulli Lidiya K Tom Taulli Peter Dunkart. Jo Dunning Brendon Burchard Bob Bly Alex Becker Alan Weiss Talmadge Harper .
Please contact email: [email protected] If you have any question.
Course Features
Lectures

0

Quizzes

0

Duration

20 hours

Skill level

All levels

Language

English

Students

97

Assessments

Yes