10-STEP WAR ON DEBT BATTLE PLAN by Dani Johnson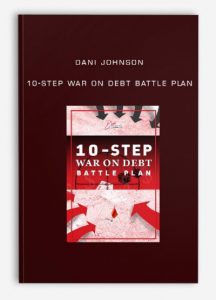 10-STEP WAR ON DEBT BATTLE PLAN by Dani Johnson
About Course
10-STEP WAR ON DEBT BATTLE PLAN by Dani Johnson
71% of US workers are currently in debt. Debt is an epidemic, running rampant in the United States and around the world. Over the years, Dani Johnson has helped thousands of clients pay off millions of dollars of debt with her War On Debt system. This 10-Step War On Debt Battle Plan guides you through 10 steps to begin annihilating your debt and taking back control of your hard-earned cash.
About  Arthor
Dani Johnson was interviewed for a feature article on AOL's DailyFinance by Sheryl Nance-Nash. Read the entire article below.
Dani Johnson says she was groomed by her drug addict parents to fail — financially, emotionally and socially. She seemed well on her way to living down to that expectation — by 17 she was pregnant, at 21, homeless. Two years later though, she was a millionaire, thanks to the thriving company she built manufacturing and selling her own nutritional and skin care products. She sold that company in 1996. Then, she lost her fortune, spending almost all of it and trusting the wrong people with the rest.
Today, as a multimillionaire with six businesses that employ more than 30 people, she knows a thing or two about wealth. She says there are three things you need to know about money: how to make it and more of it; how to keep it; and how to turn it into your slave.
"Ninety-eight percent of the population will end up dead or broke by age 65. Only two percent of the population will succeed," says Johnson in her new book, First Steps to Wealth. "Where do you want to be?" she asks. You need a financial vision.
When she started raking in the cash, she didn't have the vision thing down yet. "I believed I had to wear Christian Dior suits and $500 shoes to be successful. I believed wealth was about a new Mercedes Benz convertible, and the 6,000 square-foot house with a swimming pool, view of the mountains and tennis courts. But when I got those things, I never felt successful. I had a $250,000 wardrobe and $250,000 in jewelry, and I still felt this gaping hole in my belly that made me feel I was a failure," she writes.
Visit more course:   FINANCIAL DEVELOPMENT
The same course:  M.Rusydi  Marc Yor Rene M.Stulz Robert Cinnamon Srdjan Stojanovic Stephen G.Ryan Steve Dalton . Sumru Altug Suresh Sundaresan Thomas Fitch Tom Taulli Lidiya K Tom Taulli Peter Dunkart. Jo Dunning Brendon Burchard Bob Bly Alex Becker Alan Weiss Talmadge Harper .
Please contact email: [email protected] If you have any question.
Course Features
Lectures

0

Quizzes

0

Duration

30 hours

Skill level

All levels

Language

English

Students

98

Assessments

Yes